'It's like a scene out of Pulp Fiction' – Kilkenny home with moody colours wows judges to reach 'Home of the Year' final
Hugh Wallace said he was 'blown away', while Amanda Bone was equally effusive in her praise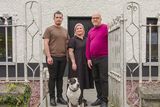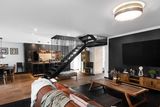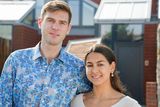 A "dark and moody" house with a Pulp Fiction-style bedroom has made its way through to the final of RTÉ's Home of the Year.
Owned by Catrinel and Stefan Cadare, the couple bought the Victorian home in Kilkenny in 2020.
They set about completely renovating the downstairs area, removing all the internal walls and going for a daring design.
"It's not a trendy home, we're not big fans of bright colours – it's moodier colours. I think you need to open your mind," said Ms Cadare. "It's not necessarily everybody's cup of tea but it works for us."
Mr Cadare admitted it took him a while to get used to the unique colour scheme.
"We just did our best. I wasn't really keen on the black floors and the dark colours. I thought, 'that's a bit too much dark' when I saw it." However, Mr Cadare said he quickly came to "love it".
Upon entering the home, judge Amanda Bone was clearly impressed with the dark colour palate, with black and rust-coloured floors and interiors.
"All I can say to the homeowners is bravo, because they've really gone for it. I think this is brilliant," she said.
"I think the layout of this room is very successful."
Judge Hugh Wallace said he was "blown away" with the quirky home.
The only dissenting voice came from judge Sara Cosgrove, who said she was feeling "really overwhelmed in this space".
She added: "I thought we were going to come into a light, bright family home and I think that's what has caught me off-guard. The immediate sense I got was dark and heavy."
The house, built around 1850, also had a boot room with an interesting colour palate of soft pink and a west-facing courtyard.
Judge Wallace suggested they could have made the back door wider to allow for more light into the kitchen. But Bone said he was "missing the point".
"This home is about shade and light – this home is about contrast, dark and light," she said.
Wallace replied: "Well, I don't agree. I think the home would have benefitted from a lump of light."
Upstairs, he praised the homeowners for their "wild" choice of designs in their main bedroom, which featured a studded pink headboard and a leather chair.
"It's like a scene out of Pulp Fiction. It's just amazing," he said.
In summing up, Bone said the homeowners had committed to their "daring design aesthetic" and that she found the home fascinating.
Wallace praised the property for a "brilliant use of a limited colour palate", which he said gave it "boldness in every room".
The property scored an overall mark of 24, putting it through to the final next month.
Also featured on Tuesday night's RTÉ One show was a modern Dublin new-build owned by Tanya Neufeld Flanagan and Morgan Flanagan.
Judges Bone and Wallace failed to agree on the downstairs living room, which featured fresh whites and warm oak.
"For me, looking at this room, I'm underwhelmed – a tone or a colour on the walls would have made a difference," he said.
Flabbergasted, Bone asked how he could be "underwhelmed with this".
"Look at the warmth, the colour. Look at their artworks, furniture, their cards, their books," she said.
Cosgrove wisely stayed out of the discussion and joked how she "often feels like I'm on a see-saw" when it comes to her fellow judges.
"When it happens, I always tend to be standing in the middle and honestly, I don't know where to look," she said.
The third property featured was a sprawling, lodge-style home owned by Martina Mahady and Aaron Doherty, which was completely remodelled and finished last year.