Gwyneth Paltrow 'slammed' into skier then 'bolted' without a word, US court told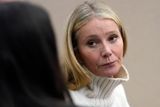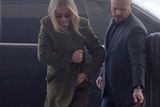 Gwyneth Paltrow "slammed" into another skier and then "bolted" down the slope without saying a word, a US court has heard.
The Oscar-winning actress is alleged to have collided with Terry Sanderson, leaving him unresponsive at the Deer Valley Resort in Utah in 2016.
Mr Sanderson, a retired optometrist, is suing Paltrow over the incident, with proceedings taking place in Park City, Utah.
During the first day of the trial, jurors heard from Craig Ramon, who had been skiing with Mr Sanderson and had been present in the aftermath of the collision.
Mr Ramon said he had heard a "loud" scream and saw a skier, later identified as Ms Paltrow, crash into Mr Sanderson on the mountain, leaving him "spread-eagled".
"We were skiing down the run and then I heard this yell, this scream, and then I looked over and…then I see this skier just slam into the back of Terry," he said.
"She slammed him very hard. She hits him directly in the back, his skis go out and he falls face down, so he's kind of spread-eagled and Gwyneth is on top of him…and bounces off and slides about five or 10 feet."
Mr Ramon said he was the only person present at the time of the collision and that he had asked both Mr Sanderson and Ms Paltrow if they were alright.
"Terry wasn't moving, his face was in the snow…his helmet was stuck in the snow. (Paltrow) just looked at me and I asked her again. She got up pretty quick…(but) she never said a word," he said.
The court heard that a Deer Valley ski instructor, later identified as Eric Christiansen, had arrived soon after the collision and started "yelling" at Mr Sanderson, who was still lying on the ground.
"He was yelling when he came down and it kept getting worse and worse," Mr Ramon said.
"He was very hostile, he was just yelling and he was yelling to the point where I was thinking 'man, you need to mellow out here'…I was tired of it."
He said that Ms Paltrow had then "bolted" down the hill, with Mr Christiansen telling him "your buddy just took out Gwyneth Paltrow".
Ms Paltrow appeared in court on Tuesday, wearing a high-necked cream jumper and brown trousers.
In his opening statement, Lawrence Buhler, representing Mr Sanderson, told jurors that the actress' behaviour on the mountain that day had been "reckless".
"Ladies and gentlemen…distracted skiers cause crashes. Defendant Gwyneth Paltrow knew that looking up the mountain and to the side while skiing down the mountain was dangerous," he said.
"(She) was looking somewhere else blindly skiing down a mountain while looking up…(this) was reckless."
He went on to tell the jury that the actress' "neglect and conscious choices" had combined together to cause Mr Sanderson "four broken ribs and permanent brain damage".
The defence is seeking damages of up to €3,276,000, Mr Buhler said.
Stephen Owens, representing Ms Paltrow, said the actress was a "conservative" skier and had been "freaked out" when she had collided with Mr Sanderson.
"You'll never hear the words hit and run," he told the court in his own opening remarks.
"This was not a hit and run. The plaintiff even had a ski expert evaluate it and he said it's not a hit and run – take that out of your mind.
"Gwyneth was hurt by Mr Sanderson's negligence…she is upset. Anyone sustaining a blow is upset, she is sore, she never went to a doctor…but it rattled her and it physically hurt her."
Ms Paltrow has filed a counterclaim, alleging that Mr Sanderson had hit her and delivered a full "body blow", and is seeking damages of $1.
Producing a one dollar bill in court, Mr Owens added: "We ask you for a dollar.
"This is a lot to go through for a dollar…so she came for a family vacation, half the afternoon was kind of ruined, so that dollar is important to us, to my client."
Both Ms Paltrow and Mr Sanderson are scheduled to give testimony at the trial, which is set to last eight days.