PSVR2 review round-up: Stars Wars, Tales from the Galaxy's Edge; Puzzling Places; Kayak VR – Mirage
As the PSVR2 headset goes on sale, here's the first of our mini-reviews of some of the key titles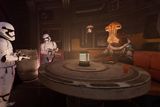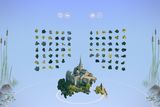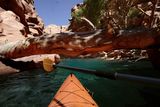 From laser blasting in space to 3D jigsaws to kayaking, there's something for everyone in the PSVR2 headset's launch line-up of more than 40 titles. Here's a selection of short reviews as we try to cover some of the more interesting titles available on day one. If you need a refresher on the PSVR2 headset for the PS5, read our full review below.
Star Wars, Tales from the Galaxy's Edge (Enhanced Edition)
(PSVR2) ***** Age: 12+
That title is a bit of a mouthful but clues you into the fact that this Star Wars laser-blasting lark originated on another platform, specifically Meta's Quest.
Happily, it seems PSVR2 owners get a considerably updated and more comprehensive version, incorporating gameplay tweaks and a boatload of DLC.
The central gimmick here is immersion in the Star Wars universe. Forget space opera stories or meaningful dialogue, Galaxy's Edge is all about living the fantasy of wielding a light-sabre and firing a blaster. The early hours border on shallow, even though your nameless character gets to interact with the likes of C3PO and enjoy energetic laser fights with dual-wielded weapons.
Later missions – which seem to correspond to the DLC – become far more interesting, allowing you role-play as a Jedi and explore fresh locations beyond dull corridors and rocky pathways.
Galaxy's Edge won't engage your brain much and visually it's a bit last-generation. But the physicality of toying with genuine Star Wars props – solving repair-type puzzles with your multi-tool, for instance – is a delight. As such, you might consider this game the second most-worthy purchase after Horizon, Call of the Mountain.
Puzzling Places
(PSVR2) **** Age: 12+
This 3D jigsaw acts as a refreshing palate-cleanser versus the virtual fireworks of many other action games in the PSVR2 line-up. Puzzling Places has its origins on PSVR so what you're getting here is simply a higher-res edition of a leisurely experience.
The game breaks up real-world locations – such as Mont Saint-Michel in France – and objects into 3D puzzles of anything from 25 to 400 pieces, corresponding to difficulty. You start with a blank canvas surrounded in VR by your disassembled fragments, with a series of photos at your feet to guide you in your goal to reconstruct the original. The interface is simple: grab a piece with one button, move it with a Minority Report-style swipe and interlink it to another.
Seasoned jigsaw-makers will recognise the task of establishing the skeleton shape before filling in the blanks. Cleverly – or bewilderingly maybe – some puzzles (of which there are 26, along with paid-for DLC adding more) require you to look inside the buildings to assist with identifying the correct positioning.
Each piece snaps into place with a gratifying click and the use of ambient sound effects such as water and music help establish when you're going in the right direction. Completing a 25-piece puzzle constitutes barely any challenge but when you step up to the larger 400-piece, you'll take any help you can get. Brave is the player who takes on the PSVR2 launch special, comprising 1,000 pieces.
Kayak VR: Mirage
(PSVR2) **** Age: 12+
Virtual reality excels at the sensation of "being there", putting you in an exotic location at life-sized scale. This port from Quest lets you experience the feeling of kayaking through some beautiful natural environments in Australia, Antarctica, Costa Rica and Norway.
It's not a matter of simply pushing forward on the joystick either – you'll also have to mimic the action of paddling with a two-handed motion, which will get tiring. The controllers accurately map the gestures of both your hands and body, enabling a wide range of movement including turning, pushing off a sandbank, ducking and even performing a body roll. A seasoned kayaker of my acquaintance confirms the actions feel true to the real world, albeit without much of the full exertion required to pull a kayak through the water.
You start by learning the ropes in a swimming pool and then have a choice of specific areas on the four continents. Ostensibly, Kayak VR is a racer, with the idea that you compete against internet pals in checkpointed time trials along various courses. You can learn the best routes and paddling styles by watching the ghosts of others but half the time you may find yourself staring gobsmacked at the gorgeous scenery.
That leads you into the much more relaxed tourist mode, where you idly drift through the landscapes, admiring the birds, fish and natural surroundings. Few will able to resist the serenity of witnessing penguins slide into the icy-blue Antarctic waters or laugh as dolphins materialise beside you in Costa Rica. If your heart-rate feels too slow, there's always the stormy waves of the Norwegian sea.
Ultimately, Kayak VR may have a limited lifespan, which is reflected in its low price. But it serves as an eye-opening introduction to the marvels of VR thanks to impressive vistas and intuitive interactions.