PSVR2 review round-up #4: No Man's Sky; Zombieland; Cave Digger 2
With more than 40 games in the PSVR2 launch line-up, we're here to help you sort the wheat from the chaff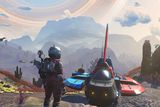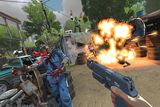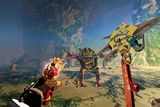 Space exploration, undead slaying and mine exploration comprise the themes for this new round-up of titles for Sony's new VR headset. Read the PSVR2 headset review below and see further summaries of the best games.
No Man's Sky
(PSVR2) ***** Age:12+
For a game that's charted an erratic path across the universe these past six years, No Man's Sky seems finally on course. It launched on PS4 and PC in 2016 with the promises of a truly phenomenal game world, a near-limited cosmos randomly generated and containing millions of planets, creatures and plants.
The sceptical response to its debut focused on the empty game mechanics that outweighed the staggering sense of space tourism as you journeyed from one remote planet to the centre of the universe.
Stung by the criticism, the team at Hello Games – led by Irishman Sean Murray – has spent the intervening years diversifying its horizons. Multiplayer, base-building, ground vehicles, VR, other console platforms – the list of additions is far longer than just these few examples.
Incredibly, the gang at Hello is still at work expanding No Man's Sky and the newest update includes what is perhaps the definitive version, on PSVR2. Content-wise, the free update is available on other platforms (including Xbox, Switch and PC). But played via Sony's 4K headset and its superb VR Sense controllers, the experience is transformative.
Compared with the 2016 version, Hello has fashioned a game that's much stronger narratively, eased many of the little niggles such as inventory management and greatly enhanced the range of tasks. But even those improvements feel outweighed by the sheer immersion and physicality of playing on PSVR2.
If anything, it's almost too much. Using tools for tasks such as mining, scanning and building require physical gestures with the motion controllers. And when you first take off in your laboriously repaired spaceship, it's hard to suppress a whoop as you zoom into the sky using a thruster-and-joystick combo. But then the motion sickness might kick in.
You can always drop back into "flat-screen" mode on PS5 for a while if it all becomes a little intense (which for me it did at times). But once you've tasted the sublime flavours of No Man's Sky in VR, you'll soon be hungry for more.
Zombieland: Headshot Fever Reloaded
(PSVR2) **** Age: 12+
VR platforms don't lack for zombie apocalypse shooters, probably because they're the definition of gory fun. This tie-in with the Woody Harrelson movie series made its debut on PC VR but has been, um, brought back to life in enhanced form for PSVR2.
True to the genre, Headshot Fever Reloaded dispenses with complex plots, deep characterisation and intricate game mechanics. It's just you and a string of lethal weapons against the clock versus a horde of zombies. As the title itself intimates, the slaughter has been further gamified to focus on pulling off headshots in sequence, which generate slow-mo and a chance to breathe while the undead rush you.
Presented in a pleasingly cartoonish cel shading and with lightweight plot framing involving the movie characters, Zombieland drops you into short, intense missions that hark to classic lightgun games such as House of the Dead and Time Crisis. Movement is limited to the on-the-rails paths, cleverly activated by eye-tracking in the PSVR2 headset.
You're encouraged to compete for online high scores and collect – I kid you not – toilet paper, which acts as currency for weapon upgrades.
Tightly put together and decidedly moreish, Headshot Fever Reloaded marries exquisitely with the tenets of VR, offering bite-sized sessions of immersive and frenetic fun. The only shortcoming may be the overall brief running time, something reflected in its €25 price tag.
Cave Digger 2: Dig Harder
(PSVR2) *** Age: 15+
A pickaxe in the one hand, a revolver in the other – the trailer summarises the core of this loot-and-shoot adventure in randomly generated caverns. Like a VR take on Steamworld Dig, the gameplay loop centres on a circular economy that asks you to gather precious minerals which you sell to improve your gear. Rinse and repeat.
Its origins on PSVR prove hard to ignore, however, with visuals that date the game badly and a confoundingly regular trickle of technical bugs that range from annoying to crippling.
That said, Cave Digger 2 engages the attention for a while at least, sending you into brightly lit chambers studded with jewels and baited with lurking enemies. Your pickaxe can carve a path through some walls while the revolver (and, later, other guns) takes care of the skittering monsters.
There's a glimmer of a back story too involving a previous miner who mysteriously disappeared, while up to four players can join forces to explore the mines.
But none of this is enough to overcome the sense that the developers might have been better off mining a new seam of ideas for the PSVR2.