PSVR2 review round-up #3: Moss I & II bundle; Thumper; Jurassic World Aftermath
Continuing our heroic attempt to review many of the 40 titles in the PSVR2 launch line-up.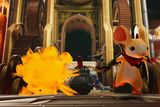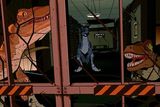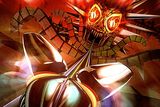 From exquisite dioramas to "rhythm violence" to dinosaur terror, here's some more short reviews of new titles on Sony's new PSVR2 headset for the PS5. If you need a reminder on the merits of the PSVR2 headset for the PS5, read our full review below.
Moss Book I & II
(PSVR) ***** Age: 12
Are you a man or a mouse? In the Moss series, you are both. This totally charming adventure features an exceptional cute rodent caught up in Disney-esque fantasy.
This bundle gathers the two games that have already become firm favourites with virtual-reality fans on PSVR and PC. Naturally, they've been gussied up markedly for their appearance on PSVR2 and it must be said that the bundle for €39 is exceptionally good value.
In both games, a little mouse named Quill explores a medieval castle that, inevitably, houses some dark creatures and belongs to, you guessed it, an evil villain. But Quill has some big help – specifically, you. In addition to controlling her in the exquisite dioramas that make up the castle, you as the player can reach your god-like VR hand into scene to move objects, harass enemies and even stroke Quill's head.
Book II ratchets up the gameplay intensity quite noticeably but still caters for a wide range of ages. Not to be missed (unless, like many other PSVR2 titles, you've already played them on another platform).
Jurassic World Aftermath Collection
(PSVR2) *** Age: 15+
As that mouthful of a title implies, this collection began life elsewhere on the Meta Quest platform and even made it in a non-VR form to the Switch. What once was two parts is now a single expedition to Isla Nubar, the island home of the dino jail break.
In Aftermath, it's you who's trying to escape a theme park rampant with hungry velociraptors and the odd T-rex. Presented in a spartan cel-shaded art style, the game concentrates on squeezing as much drama as possible from sneaking around corridors and ventilation shafts, fleeing the savage enemies.
At first, the tension is quite palpable but once you've hidden a dozen times in a cupboard or crawled underneath furniture, you've seen a lot of what Aftermath has to offer. Even the actual voice of Jeff Goldblum advising you in your earpiece can't quite disguise the modest budget at play here. Repetitive stealth, basic puzzles and uninspired locations aren't compensated for by the occasionally terrifying experience of sharing a VR space with a monstrous T-rex or sharp-toothed raptors.
Thumper
(PSVR2) **** Age: 12+
One of the PSVR1's most distinctive launch titles – mesmerising psychedelic visuals married to breathless music rhythm and a gothic sensibility – got ported to many other platforms beyond VR. Here, it makes its return, albeit only lightly updated for PSVR2.
Of course, the "rhythm violence", as its creators dubbed it, still packs a fabulous sensory overload and for newcomers it's only €20 (€5 for an PSVR1 owner's upgrade). But this essentially reheats a 2016 game for a 2023 audience. Sure, the increased haptics and the 4K HDR visuals represent an improvement but with no new levels, nor even a fresh gimmick, Thumper is a little off the beat.