PSVR2 review round-up #2: The Last Clockwinder; Rez Infinite; Tetris Effect, Connected
With more than 40 titles in the PSVR2 launch line-up, here's more of our mini-reviews of some of the key games.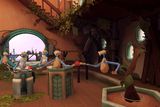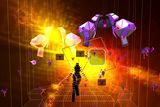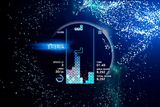 From robot-cloning puzzles to music rhythm shooter to Tetris in space, we give you another selection of short reviews as we try to cover some of the more interesting titles available on Sony's new PSVR2 headset for the PS5. If you need a reminder on the merits of the PSVR2, read our full review below.
The Last Clockwinder
(PSVR2) **** Age: 12+
First appearing on Meta's Quest headset, this clever and gentle puzzler puts you in charge of a team of robots in a fruit-harvesting factory. These mechanical helpers do nothing until you show them – and then they clone your actions ad infinitum.
The back-story centres on a Ghibli-esque fantasy about rescuing a planet by powering a clocktower with fruit. Together with the cute visuals and easygoing soundtrack, it makes for a good-natured and unhurried robot adventure that's much more Iron Giant than Terminator.
Set essentially in a single building with multiple floors, The Last Clockwinder breaks you in gently, first asking you to plant a few seeds, harvest the fruit, transport them across the room to a juicer, where they're finally squeezed. The process requires physical actions in VR to perform the automations, recording your gestures for the robots to copy. Many actions become interdependent on the timing of the machines' moves.
But the brilliant thing is that there's no wrong answer. You might set up a conga line of clones handing the fruit to each other – or try a beer-pong lob. The physics of the game are robust enough to let you try many options.
Naturally, the jobs become trickier over time. The fruit might be weightless and some explode if you hold them too long. But with no apparent limit on the number of clones permissible and many ingenious solutions possible, half the fun lies in figuring the most efficient route around the level.
With no penalty for taking your time, Last Clockwinder can leave you hanging around waiting for your production line to bear fruit. But this whimsical caper grows on you the more realise how much you can finesse your clone creations.
Rez Infinite
(PSVR2) ***** Age: 12+
Now well over two decades since its Dreamcast debut, the mind-melting music rhythm of Rez found its true home on PSVR back in 2016. The fusion of techno beats, pulsing wireframe visuals and automated shooting felt perfect for VR.
Infinite comes back for a cheeky second bite at the VR cherry on PSVR2 and, it's true, you can feel some improvement. Superior haptics, eye-tracking and crisper graphics position it as the definitive version of Tetsuya Mizuguchi's masterful synthesis of music and videogames – or at least until there's such a thing as PSVR3. If that ever happens, you can bet there'll be a Rez Infinite for that too.
It might feel like carping about what is truly an impressive VR experience – particularly the staggeringly good Area X level – but a little more forward-looking imagination would have been welcome.
Tetris Effect: Connected
(PSVR2) ***** Age: 12+
Different icon, same producer, same gripe. Mizuguchi fashioned another trippy piece of brilliance from a VR riff on the classic Tetris, which manifested in 2018 as Tetris Effect (later adding the Connected suffix to indicate a multiplayer component).
It was fabulous then – and it's still a blast, with the constellation of visual fireworks enhanced by the 4K resolution and buzzier haptics in the controller and headset.
In the unlikely event you've never played it before, it'll knock your socks off. But is it too much to ask for a touch more innovation in such a re-release? Mizuguchi's new game Humanity is slated for release in May (PSVR2 and non-VR platforms) so perhaps we should cut him some slack that he was too busy to create entirely new experiences in Rez or Tetris Effect.