ABBA Voyage – my trip to 'an emotional rollercoaster, filled with childhood memories' in London
With help from technology, the Swedish pop icons have been returned to their 1970s form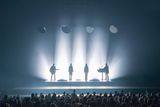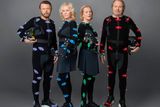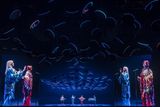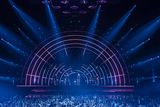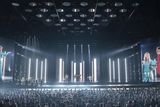 As the sweet, opening notes of Thank You for the Music flood the Abba Voyage Arena, my eyes fill with tears.
Directly in front of me is an older woman who, I'm guessing, is in her early nineties. She's sitting in a wheelchair with a blanket on her lap, and she's bobbing gently to the music. The woman in the seat next to her, presumably her daughter, wraps her arms around her, and they sway together in time to the melody.
I turn to look at my own mother, the woman who introduced me to the Swedish pop group thirty-odd years ago. She's singing along and has a look of sheer delight on her face. I loop my arm with hers, so grateful for this moment in time and join in.
When I first heard about ABBA's reunion show, like many others, I assumed the musical foursome would return to the stage to perform a selection of their greatest hits. However, as we now know, our beloved Eurovision winners gave fans something far more sustainable than that.
Simply put, ABBA Voyage is the closest thing to time travel you or I will ever experience. In the purpose-built London arena, the four life-sized CGI ABBA avatars deliver a spectacular show in their iconic 1970s form.
ABBA Voyage certainly blurs "the lines between the physical and digital", by bringing the magic of ABBA to life using the latest motion-capture technology.
Although technically digital, the avatars re-enact the movements and mannerisms of the real-life ABBA after motion-capture suits were used to create them.
Combined with vocals which were recorded during the same process and the live ten-piece band which joins the avatars on stage, it is easy to (almost) feel as if the laws of time don't apply.
Now, if you are thinking there is no way this can beat a show with, you know, real people, I hear you. I had my doubts too.
Given the strict no-recording policy at the venue, there is also very little footage online to help you visualise the event ahead of time. Instead, all you have to go on is a couple of seconds of promo footage and the promise of a "breathtaking" experience. But that was good enough for me.
We need your consent to load this Social Media content. We use a number of different Social Media outlets to manage extra content that can set cookies on your device and collect data about your activity.
Sceptically optimistic, I booked our tickets on a warm summer evening last year, and we began the countdown to our weekend in London.
Fast forward several months, and we're on the DLR train to Pudding Mill Lane station. Our carriage is crammed with groups of women, who we can sense are also en route to the show.
Even on the train, the energy is bubbling. As we step onto the platform, I exchange a nod and a smile with several of them. Across the street, the words ABBA light up the side of the building, and there is no doubt that we have arrived.
We're a little early, so we grab a quick drink in Snoozebox, the shipping container turned popup bar next door, before making our way through the crowd of sequenced bellbottoms and into the arena for the main event.
There isn't a bad seat in the house. The building has been designed so that, regardless of where you sit or stand, you feel like you've somehow snagged the best spot. We find our seats and a couple of minutes later we are launched into what can only be described as the future.
Technology, lights, lasers and music all work in unison to transport us into ABBA's world, and we are more than happy to be there.
The room erupts when the freakishly lifelike avatars (I say this with affection) walk onto the stage. I'm cheering like a starstruck school kid, and I'm not sure if it's for the avatars or the geniuses behind their creation.
Everything down to the fly-away hairs on their heads has been captured. Every movement, every expression, every hip thrust. There's life and passion behind their digital eyes, and I find myself being swept away willingly.
If I allow myself to find one flaw, it would be with the large screens to the side of the stage. This is where the show loses a little bit of its magic, and the CGI is most noticeable. But I try to keep my attention on the stage, on Agnetha, Björn, Benny and Anni-Frid. And after a few minutes, it's hard to tell where technology begins and reality ends.
They play hit after hit – Mamma Mia, S.O.S, Chiquitita, Dancing Queen, Lay All Your Love On Me – all the classics. We're overlooking the now-heaving dancefloor, and part of me wishes we are down there. It looks like one big, fabulously flamboyant party.
We need your consent to load this Social Media content. We use a number of different Social Media outlets to manage extra content that can set cookies on your device and collect data about your activity.
Gimme! Gimme! Gimme! gets us all on our feet. Even the security staff seem to be finding it hard to resist the urge to have a bop – I spot a couple of them throwing shapes on the other side of the room.
Afterwards, we leave the arena and make our way across the road to the train station, keen to get ahead of the crowd.
We're laughing, huge gulping laughs, as we climb the stairs to the platform. I won't spoil what happens at the end of the show, but let's just say my mother had a colourful reaction.
When we reach the platform, a ticket conductor is standing there; he begins to laugh when he sees us.
"Did you enjoy the show then, girls?" he asks with a grin.
He can obviously recognise an audience member when he sees one.
"It was brilliant," we both reply.
We talk about it nonstop for the remainder of our trip, dissecting every moment of the experience. We have a short-lived debate over whether or not we should get two tickets for the matinee show the following day, but settle on a promise to return to London later in the year instead. With tickets available up to January 2024, it's just a matter of picking a date.
For me, the ABBA Voyage experience was an emotional rollercoaster, filled with childhood memories and an acute awareness that I was making a new memory right there.
As a small child dancing around the living room, never in my wildest dreams could I have imagined that one day, technology would allow me to watch them perform live, albeit in digital form.
And I, for one, would like to say thank you, ABBA, for the music.
How to do it
Tickets to ABBA Voyage start from approximately €62. Public transport is available from London city centre to the ABBA Arena – take the DHL line from Canary Wharf to Pudding Mill Lane station. abbavoyage.com