It's your call (also camera, messenger, calendar and diary): Guide to the top smartphones and all that they can do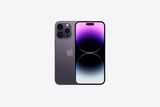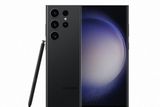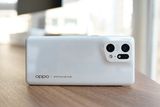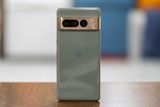 With folding phones struggling to get hold of our imagination, or our shopping budgets, what's the very best conventional smartphone you can buy? Adrian Weckler has tested all of the flagships and offers these four for consideration.
1. Apple iPhone 14 Pro Max
Price: from €1,489 (128GB)
Pros: great integration with services, great cameras, great power and superb battery life
Cons: very expensive and low entry-level storage
For anyone who likes iPhones, this is the absolute top handset you can get. The cameras (and especially video recordings) are superlative, the large 6.7-inch 'always-on' screen is incredible and battery life is a minimum of a day's decent usage (although watch out for a few percentage points of drainage if you use that 'always-on' screen).
It looks fantastic, too, with its squared metallic edges and a new purple colour. And the engine underneath is ridiculously powerful, matching the higher-end iPad Pros for some tasks.
And some newish safety features, such as crash detection and the ability to send an SOS message via satellite in areas with no cellular coverage, are innovative things to have on board.
The big downside to all of the iPhones is their cost. The current pricing was set when the dollar-euro exchange rate was at its worst (from an Irish point of view); this means that the entry-level Irish price for an iPhone 14 Pro Max (€1,489) is almost €400 more than the US price (€1,090 including 8pc sales tax). Other phone companies didn't quite punish eurozone buyers as much as Apple.
But this doesn't seem to deter those who want the best of the best. Besides, the iPhone's big selling point, other than its actual hardware features, is the ecosystem it slots into. Things like FaceTime and Find My are now a regular part of many people's lives, as are Apple Watches, which only really work with iPhones.
So the iPhone 14 Pro Max has to be considered in or around the very top of the heap because of its cumulative array of attractions.
2. Samsung Galaxy S23 Ultra
Price: from €1,469
Pros: built-in stylus, best-in-class camera system, great display, good battery life, built-in stylus
Cons: pricey
It's fair, I think, to describe the S23 Ultra as the best overall Android phone you can buy. Its combination of power, screen, cameras (especially) and battery life – not to mention a built-in stylus for those who like it – probably edge out every other mainstream contender. Or at least that's my experience with it.
In terms of downsides, it's challengingly expensive – much pricier than last year's S22 Ultra, which remains a comparable phone. If you're an Android flagship shopper, this is almost twice as expensive as Google's Pixel 7 Pro (see below).
The S23 Ultra's physical design is nicer than the S22 Ultra because the front is flatter, with less curved glass at the side.
And it comes with one accessory unique to flagship smartphones – a built-in stylus. Its S Pen, inherited from the Galaxy Note series, isn't for everyone but can be very handy when you click it out of its nestled spot in the lower left side of the phone. You can just start scribbling away.
The 6.8-inch screen is, as you'd expect, about the best you can get on a phone, with an adaptive 120hz refresh rate (which results in smooth scrolling) together with its ultra high resolution 3k (1440p).
On the camera side, the S23 Ultra can now produce 200-megapixel photos, compared to the 108-megapixel shots of its predecessor. Its 8K video recording is also marginally better at 30 frames per second. It has two zoom cameras – a 10-megapixel 3x lens and a separate 10-megapixel 10x lens. Combined, these can comfortably push the zoom to around 30x and still produce decent, clear shots, a fairly astonishing feat for a phone. (The 100x digital zoom gets a bit fuzzy, though.)
Battery life is generally very good on the phone, thanks to its 5,000mAh battery – a bit of a marvel, given that there's still room for the S Pen stylus to slot in.
It comes in some nice colours, too – black, cream, green and lavender.
3. Oppo Find X5 Pro
Price: from €900 (Amazon.co.uk)
Pros: incredible charging speed, good all-rounder for the money
Cons: cameras aren't quite as good as other elite flagships
When Oppo launched its Find X5 Pro last year, it was a slightly prohibitive €1,200. Today, it's a much more palatable €899 on Oppo's store on Amazon. That makes it well worth inclusion in the top Android flagships currently available.
As well as the top-end engine (including 12GB of Ram), good battery life and excellent screen, arguably the biggest bonus for those getting this the 6.7-inch flagship over rivals is the maximum charging speed of up to 80 watts. This equates to around half full in 15 minutes. And unlike most of its main rivals, you get a cable and a charger in the box.
One other main appeal of the Find X5 Pro is its build quality. It has a very tough, smooth ceramic shell that's pretty expensive to make.
A special mention, too, goes to the Find X5 Pro's speakers, which are genuinely superb: you can easily watch a Netflix or YouTube video without headphones and get a really decent audio experience out of it.
Ironically, the one compromise that the Find X5 Pro makes compared to rivals is the thing it trumpets most: its cameras. While these are very good, they're not quite at the level of an iPhone 14 Pro, a Samsung S23 Ultra, or even a Pixel 7 Pro.
Despite this, Oppo's Find X5 Pro is a proper flagship phone for fairly intensive use. It's incredibly powerful, feels great in the hand and has one or two unique selling points, including its astonishing charging speed.
It remains Oppo's top flagship in Ireland because the Find X6 Pro isn't being launched outside China for software-related reasons.
4. Google Pixel 7 Pro
Price: €799 (currently reduced)
Pros: great price, great cameras, excellent software, a brilliant all-rounder
Cons: not quite as handsome as other elite flagships
Anyone looking for an affordably-priced, high-performing flagship phone well under €1,000 will scarcely do much better than Google's excellent Pixel 7 Pro. It's the lowest-priced elite model in this list. When compared with heavyweights from Apple and Samsung, in particular, it's very, very good value.
The only downside is a slightly inconsistent underscreen fingerprint sensor and slightly curved glass screen, which isn't aesthetically to my taste, despite it being technically advanced.
It has a gorgeous, bright, 6.7-inch, 120hz screen and a whopping 12GB of Ram, supplemented by Google's own Tensor G2 chip. No longer does getting a Pixel phone mean you're hoping that the 'pure' Android will make up for modest hardware and engine power: this is an absolute beast.
The cameras are excellent. As well as a (0.5x) ultrawide lens and a 50-megapixel main 1x lens, there's a really good 5x optical zoom lens. Combined with the chip under the hood, this means the Pixel 7 Pro hascaught up with its top rivals.
it used to be Samsung led on innovative photo features and Apple dominated advanced video effects. But while the iPhone is still ahead on video, Pixels have been strongly competing for top spot in what you can do with photos once you've taken them.
And the software, backed up by the chip under the hood, gives some other excellent camera features, too. As well as Google's 'eraser' feature, which lets you easily cut out people and objects from photos like a professional photoshop program, the Pixel 7 pro has an 'unblur' feature. The idea is that it will take a blurry photo you may have taken of someone (at any stage) and transform it into something that looks naturally sharp.