Apple's €850m data centre in Galway faces new Bord Pleanala hearing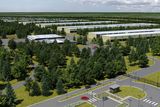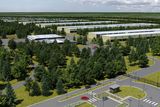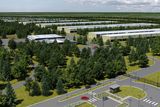 A proposed €850m Apple data centre in Athenry, Co Galway, faces a challenge with an oral hearing now planned by An Bord Pleanala into the project.
Apple's new data centre is being constructed to service Apple's European business in online services for Apple Music, the App Store, Messages, Maps and Siri. If built, the 24,500 square metre facility would be one of the largest data centres in Europe, creating over 300 construction jobs and a smaller number of permanent technical positions. Local businesses also say that it could have a multiplier effect for indirect jobs.
But the proposed development has received a handful of objections from local residents relating to environmental, power, wildlife and road traffic concerns. It has also caught the attention of the Department of Arts, Heritage and Gaeltacht, which has sought further assurances on local natural habitats.
Apple, which is understood to be in advanced negotiations with an energy supplier, says it will provide An Bord Pleanala with further detail on issues raised at the oral hearing.
"We welcome the opportunity to address any additional questions An Bord Pleanala may have," said a spokesman for Apple. "The planning process is an important way for everyone to have their say and we've made every effort to incorporate the feedback we've received. Our plans are for our greenest data centre yet which is designed to be sympathetic to its surroundings and, like all our data centres, run on 100 percent renewable energy from day one."
The spokesman said that Apple had met with an "overwhelmingly positive" reception to its plans for a data centre in Athenry, initially announced in February 2015.
While oral hearings for major infrastructural projects are not unusual in the Irish planning process, the Apple hearing is set to hear questions around environmental and power consumption issues at the 500-acre campus project.
In December, An Bord Pleanala asked for clarification on a number of issues related to the project, including where the company will source its renewable energy and the environmental impact on the local bat population. A date for the planning authority's oral hearing has not yet been set, but is likely to happen in the coming months.
The project's supporters include Galway's Chamber of Commerce, whose executives say that the new data centre would enhance the region's commercial visibility.
"I could see it as a catalyst to attract additional investment here," said Frank Greene, president of Galway's Chamber of Commerce. "The wider significance of having Apple as part of the DNA of the Galway region is huge. It's also going to have a big multiplier effect on indirect jobs here."
One objector to the data centre claims that the facility could become the single biggest consumer of electricity in the country.
"Apple's data centre will single handedly increase electrical energy usage in the Republic Of Ireland by 1pc after one data hall is built and [by] an amazing 8.2pc after all eight data halls are built," said Allan Daly in a written submission to Galway County Council. Mr Daly said that he was not against the data centre as a "concept" but that more work needed to be done on the project's environmental impact assessment.
However, in a revised Environmental Impact Statement submitted to Galway County Council, Apple says that the data centre will not use this much energy.
"Our data centre will have an initial 6 megawatts power requirement when it comes online in 2017," said the statement. "According to EirGrid's projections, this would amount to approximately 0.17pv of Ireland's national electrical power. At full capacity, which we expect to be around 2021, the first data hall will have a power requirement of 30 megawatts which is approximately 0.78pc of Ireland's national electrical power use for 2021. At full capacity in 10 to 15 years time we expect the maximum power requirement to be 240 megawatts, though it will likely be less because of technical improvements in energy efficiency, which would represent 2.5pc."
Apple's data centre plan is based on a "spine and cluster" system that will use air flows to decrease water and energy consumption. Apple has previously said that the facility will be powered entirely by renewable energy from when the site opens in 2017. Although this is likely to be dominated by wind, the company is understood to be seeking alternative sources, including solar energy and biomass. Last year Apple announced a €1m fund for ocean energy testing in Galway.
In November, the company held a supplier fair in Athenry for would-be local suppliers to pitch for business into Apple's Galway data centre and construction development.
"Hopefully, this will attract other industries," said Peter Feeney, a local Fine Gael Councillor for Athenry-Oranmore. "We have around 240 acres of serviced IDA land available not far away, one of the biggest land banks in the country. We're looking forward to Apple being a forerunner for things to come. It has put Athenry on the map. It's one of the best things that's ever happened to us."
The Athenry data centre is one of two European such facilities currently being planned by Apple. A second data centre is being built by the company in Denmark, at a cost of €850m.
"I'd hate to see an incinerator or a power plant put in there," said Anne Keary, principal of Lisheenkyle National School, a primary school that borders the proposed Apple development. "But I'm here 36 years and this is a dream come true for the locality. Apple has dealt with us very professionally. As an educator if we were to choose a neighbour, Apple would be up there."
Ms Keary said that Apple had given the school undertakings to plant native trees in the woodland area adjoining the site, as well as a new walking trail.
"From our perspective, Apple is fairly well known for their interest in the environment," she said. "The recession is alive and kicking around here. The majority of people in the locality welcome this."
Apple currently employs 5,500 people in Ireland, with operations in distribution, manufacturing, tech support, finance and a number of other functions.
Ireland is currently seeing an upswing in data centre projects as international companies seek to expand data facilities within the EU.