One solution to the housing crisis: Let Respond start building thousands of social homes
Housing association CEO Declan Dunne has the sites ready to roll, once the Government can give him a guarantee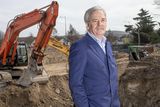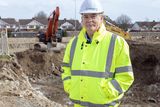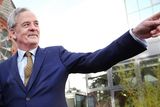 Declan Dunne rarely focuses on blame or on the politics of homelessness. The CEO of housing association Respond leaves that to others.
Respond's priority is to build social housing, and increasingly that means cost-rental homes. Indeed, with the right signals from government, Dunne hopes Respond will ramp up its output within months and begin construction of thousands of cost-rental apartments.
But, even so, the housing crisis still has the power to shock him.
'We've agreed prices and are ready to commence thousands of units'
"On Wednesdays we've a coffee morning for people in our homeless service. A beautiful baby was brought along last week."
The baby was just four days old.
"What's going on when babies are born into homelessness?"
At Respond's family hubs, people who are awaiting something more permanent are now staying an average of 11 months before moving on, compared to the five months they used spend. That is likely to get worse.
"The Government has made the hard decision to end the eviction ban, and we expect to see an increase in demand for our family homeless services. We're focused on adding to the national housing stock through our home-building programme, so we can provide more families and individuals with the long-term security of their own home," says Dunne.
Respond currently has 1,433 social and affordable homes under construction across the country. Its home-building programme has a value of more than €1.5bn.
Last week it broke ground on a project in Sandyford, one of the largest mixed-tenure developments south Dublin has seen for years. The site at Lisieux Hall will, from late 2024, provide 200 new homes (67 cost-rental apartments and 133 social apartments).
The scheme is being funded through a Department of Housing cost-rental equity loan (Crel), capital advance leasing facility (Calf) finance, and loans from the Housing Finance Agency.
Cost-rental apartments there will charge from €1,137 per month for a studio, to €1,530 for a three-bed unit – that's about 35pc lower than local market rents.
Respond is ready to go even further, and has signed agreements with contractors on sites that would see it build thousands more cost-rental units, starting this summer.
The vanishing of finance from the private rental sector – even where planning was in place and building was ready to start – has presented opportunities to step in with a different model.
"We are looking at very large schemes, big numbers, starting immediately. It would be multiples of what we're currently doing. We've agreed prices on specific sites and are ready to commence thousands of units."
​
'Speed is important. By September we'll be paying €40,000 more per unit'
In January, Dunne attended a government-organised summit of housing and homeless agencies, and found himself in a 45-minute-long working group with Taoiseach Leo Varadkar.
"We were talking about what needs to be done and he was asking all of us what we could do to ramp up. In our organisation we were quite happy that we were hitting our targets. But we went away from the summit and said: 'Let's see what we can do.'"
Opportunities to allow Respond to very significantly and quickly ramp up construction were not hard to come by.
"We could add thousands of units this summer into our construction programme. We've agreed the prices with big tier-one contractors. We're ready to go. But these prices are going to expire, and when they do they're not going to be cheaper the next time. By September we'll be paying €40,000 more per unit."
But there's one remaining problem. Dunne and the Respond board are not prepared to proceed with a greatly expanded building programme without a clear government commitment on risk.
Cost-rental apartments come with a higher risk for Respond than social housing. If a tenant in social housing stops paying the €55 rent a week, it is one thing. But it's a very different calculation for the organisation if a cost-rental tenant stops paying a €1,200 per month payment.
If that risk is multiplied across thousands more homes, it creates what Dunne – and his board, made up of industry professionals – believes would be an unacceptable risk for the organisation. It's one he is not prepared to take.
"It would put everything else we do at risk," he says. "We're not speculative developers. We're funded by the taxpayer. We have a responsibility to our existing 15,000 tenants and we are not going to put them at risk."
'Think of the kids who are happy to bring pals back home. It sets them up for life'
The Government is currently doing a review of the cost-rental sector. Respond has made a submission, asking for an immediate new approach to be taken as part of a ring-fenced proof-of-concept scheme.
This would see the State take on the financial risk that comes with developing thousands of cost-rental homes.
It's a model that could be used by other housing associations and local authorities too, he says.
"We've asked them to step outside the existing rules, and ringfence it as a piece of R&D on designated sites that can inform the review. We need an emergency response and a major ramp up in delivery.
"We are out front on this – but others can do it too, if they adopt the same methodology to manage the risks."
Dunne points to an intervention a week ago by Public Expenditure Minister Paschal Donohoe to solve infrastructure delivery problems in the National Development Plan.
"He stepped right into the whole thing and said: 'We have to deliver these projects, and we have these blockages – so we're going to make a fundamental change.' The same thing needs to happen for residential housing."
From the very beginning, Respond was an organisation focused on housing delivery. It was started 40 years ago in Waterford by Franciscan priest Pat Cogan.
"There were older people living in Waterford in these little houses which were in a terrible state. It was grim. He raised money – a few quid here, a few quid there. He went around Waterford and got people to pay a pound a brick."
Since then, the organisation has built over 7,068 homes which it owns and manages.
"He connected with professionals – people in the building trade, architects – and got them to volunteer. Respond was always a construction organisation. He brought some commerciality to a charity if you like."
'It helps that the houses being delivered now are beautiful'
Dunne also prides himself on having always floated effortlessly between different worlds.
"My father was from Rialto and was an electrician with CIÉ. He was big into trade unionism. I didn't realise the influence he was having on me. My mother had worked as a governess and instilled in me something that would stand to me later in life."
The family lived in Drimnagh – and Dunne, like his father, attended St Michael's National School in Inchicore, in a then notoriously tough complex called Keogh Square. It was a former British army barracks into which tenement families had been rehoused after independence.
"People there were very poor. I learned a lot there. I survived. I even became the All-Ireland junior cycling champion."
He also did well enough to get a scholarship from Dublin Corporation to go to secondary school in the James Street CBS. From there he got a scholarship to do engineering in Trinity. But after a year he had enough of academics.
"I left to start my own security business. It just wasn't for me. I was young and impulsive."
But the move worked out. By the age of 30, he had 40 people working for him, doing retail security in the city centre. After 12 years building the company, he sold it to American multinational security company ADT.
That coincided with his wife Marie suffering a brain tumour.
"We'd had our first child, and the sale meant I was fortunate enough to be able to look after them when they needed me."
When Marie had regained her health he set himself up as a business consultant before becoming increasingly involved with local development work in Clondalkin. He then took a role running the Partnership company in Ballymun, where he spent 10 very fulfilling years.
"I'd friends in Ballymun and knew it well, but I wasn't sure what to wear to work on day one. So I stuck with what I've always worn – a three-piece suit," he says.
A stint as CEO of Sophia Housing Association followed, before nearly seven years ago becoming CEO of Respond.
Over the years, he's seen fear and stigmatisation stymie delivery of social housing, helping to create the current crisis.
"When I was in Ballymun, people wrote Poppintree on their CVs to get a job."
But those attitudes, he says, are changing.
"It helps that the houses being delivered now are beautiful. If you get a social house now, you've won the lottery.
"Think of the kid who isn't uncomfortable to bring his pals back to his home. Think about how it sets him up – to not be distanced from the education system, the justice system, labour markets. To be in a nice place, proud of their home, not feeling alienated."
Homelessness once happened to other people. Now, he says, it can happen to anyone.
"We've all had dark days where we needed someone to look out for us. And this is what we want to do for people."
Curriculum Vitae
Name: Declan Dunne ​ From: Drimnagh, Dublin 12 ​ ​Lives: Clondalkin, Dublin 22 ​ Family: Married to Marie with two grown up children, Stephen (35) and Brian (25) ​ ​Education: St Michael's National School, Inchicore, and James St CBS ​ Favourite hobby: Work is all consuming but he enjoys gardening and spending time with family ​ ​Favourite book: Hear Yourself: How to Find Peace in a Noisy World by Prem Rawat
Business Lessons
Have you any advice for anyone starting out in their career?
"Do something you love. I immerse myself in my work. It is incredibly fulfilling. Doing housing stuff, everyday you go into the office and are meeting people who are homeless, talking to them about very difficult stories, having coffee with them.
"Imagine how grounding that is. Imagine the sense of urgency it brings." ​