AdLib: Adland needs own 'inclusion rider'
Media & Marketing with Michael Cullen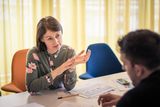 Advertising must lead Irish business by being at the vanguard of diversity and inclusion. While adland was once a haven for 'non-traditional' people where differences were a plus, it now lags behind the seismic changes in Irish society, Institute of Advertising Practitioners in Ireland (IAPI) president and Publicis director Jimmy Murphy has said.
Speaking at an International Women's Day (IWD) seminar in Richmond Barracks - where 77 women were arrested and held along with many of the War of Independence leaders - Murphy quoted Michelle Obama in referring to the need for adland to be "both strategic and relentless" on promoting diversity in terms of gender, sexual orientation, age, education and background.
Murphy also referred to Frances McDormand and a term she used when accepting the best actress award at the Oscars. In referring to an 'inclusion rider', McDormand highlighted the clause in Hollywood contracts which now demands a diversity quota to correct biases in casting actors and hiring crew. The same rule could soon apply in adland.
"If you're fixing your agencies," Murphy insisted, "you don't want to be on the other side of the inclusion rider". Wavemaker managing director David Hayes said if agencies are to push for change, there must be a radical rethink, and it's going to take time. Rather than introducing gender quotes, he would be more in favour of a shift in people's mindset.
Core Sponsorship managing director Jill Downey spoke about how her agency group's equality overhaul was driven by the 'Great Places to Work' in Irish companies' league table. From 50th place in the first year, Core soon moved up the ranks to 27th place before going to on to top the overall sector. Flexible working and maternity leave on full pay was ushered in.
Downey said that when you see unconscious bias at work, you never get to "un-see it again".
New Zealander Ali Hanan, who quit adland to set up Creative Equals and now strives to increase gender, ethnic and demographic diversity in UK ad agencies, said a number of major international brands like HP are actively embracing a road map for change.
Hanan said General Mills now only hire agencies which have an even split gender-wise and 20pc people of colour. Unless an agency has a diverse recruitment policy up and running, it won't last, Hanan insists. Diversity not only benefits the bottom line, it also fosters creativity and happiness at work, which, in turn, promotes staff retention.
Nicky Bullard, chief creative officer at MRM Meteorite in the UK, said that from her experience working in advertising, creatives are a little like sunflowers - they need to be in the sunshine.
* Publicis executive creative director Carol Lambert is overseas judging the prestigious One Club for Creativity advertising awards. Judging this year takes place in Punta Cana in the Dominican Republic and in New York. What makes the One Show different from most other ad awards around the world is the fact that it's a non-profit making exercise.
Around 22,000 entries from 74 countries have been entered this year. Gongs are presented in 16 categories, with 200 jurors studying entries across the board. Lambert is one of 13 jurors from the UK, Europe, the US, Canada, South America, India, South Africa judging the print and outdoor entries.
* Britvic Ireland has extended its support for Dublin GAA with a new three-year deal. The hydration partnership involves Britvic's Ballygowan water and Energise Sport drinks and includes all the Dublin senior and junior football and hurling teams.
The contract is said to be worth around €350,000, plus product. Britvic's other involvements with major sporting events include Robinsons soft drinks at Wimbledon in July. The 83-year-old deal is said to be the world's second longest-running sponsorship contract.
* Dublin digital creative agency Wondr has been shortlisted as a global top 10 studio in the CSS Design Awards. The peer-to-peer awards honour design agencies for ground-breaking work. Wondr was founded four years ago by Sebastien Sicot and Dermot O'Shea. Oisin Hurst joined as creative director in 2016. Clients include Arnotts, Brown Thomas, Core, Electric Ireland, FBD, KBC and the National Concert Hall.
* An Post has seen presentations from three agencies for its above the line, direct marketing and digital services. Chemistry, Javelin and the incumbent, JWT Folk, formed following the merger of Target McConnells and DDFH&B, all pitched last week.
Michael Cullen is editor of Marketing.ie; cullen@marketing.ie