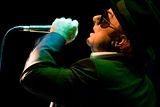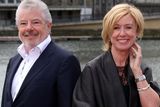 From 150 to 199, who are the movers and shakers?
150 Louis Ronan €73m
BSE testing, up €1m
Ronan is thought to be a serious car collector. He has made a fortune through his Enfer group, which developed BSE testing for cows and other veterinary diagnostics.
He owns an 85 per cent stake of the Tipperary group, which has paid over €50m in dividends. Other interests include a crematorium and a meat-processing business. Son Louis Jr is the partner of TV star Mairead Farrell.
151 Michael Herbert €73m
Fried chicken, up €8m
Belfast's Ferrari-driving Herbert and his glamorous wife Leslie run Europe's largest Kentucky Fried Chicken franchise – but sales there dipped €5m to €76m last year.
Their company Herbel Ltd owns property, which it values at €163m. Assets include a Haagen Dazs franchise, office blocks, industrial parks and retail outlets.
152 Leslie Buckley €72m
Online jobs, up €8m
Corkman Buckley chairs INM, which has seen its share price increase six-fold over the last year. He's also a big shareholder in recruitment firm Saon group, which is going gangbusters in China. It sold its European operations for €80m last year.
Buckley, a seasoned restructuring expert, made around €46m from the sale of shares in Denis O'Brien's Esat and Digicel mobile businesses.
153 Geoffrey Elliott €72m
Pharma, up €22m
Former Galen finance chief Elliott made around €70m – more than we previously thought – when the Northern Irish drug company was bought out in 2004. Previous share sales added another €12m.
He was also a beneficiary when Warner Chilcott was bought out last year. Elliott's private investment group Hilmark has backed medical packaging group Pharmapac, as well as investing in property.
154 Ian Quinn €72m
Medical devices, up €7m
Quinn and his family set up the hugely successful Galway medical devices firm Creganna in 1980. Private equity group Permira spent €158m to buy a majority stake in the company in 2010. Quinn and his family are thought to own a €70m stake in the business.
155 Shane ReihilL €71m
Investments, down €5m
London-based financier Shane Reihill shared around €70m when his family sold out of the Tedcastles Oil business more than a decade ago. He put the windfall to good use.
Reihill became a serial investor and venture capitalist. He turned a €6m punt on Betatherm into €18m in a three-year period, while also netting good money from the €217m sale of Norkom three years ago.
Last year, Reihill made €13m when his investment group, TVC Holding, returned €50m back to its shareholders. He owns a 27 per cent stake in the listed company, which is worth around €18m.
Reihill is also involved in the music business, chairing the Denis Desmond LN Gaiety Group in the UK and the Agency, a global talent booking group. He is also an accomplished poker player, having won over €91,000 on the world circuit.
156 John Kennedy €71m
Oil Services, down €5m
Oil services magnate John Kennedy made €31m when floating his company Wellstream on stock markets in 2007. He netted another €22m when GE spent €1.3bn to buy it three years ago.
The Newcastle-based industrialist serves on the board of Ireland's most valuable company CRH and he has investments in other oil-related businesses including Sabre Oil & Gas, Hydrasun and BiFold Fluid Power.
157 Michael Cotter €71m
Property, up €2m
There aren't too many developers who sail yachts as well as this man. Michael Cotter sails Ireland's fastest yacht, the 78ft Whisper, as well as the 83ft Halloween, which is moored down in the Med. Cotter has raced extensively in the Caribbean.
The Foxrock man has a rather nice pad, with room for eight cars in the garage. His Park Developments was behind the enormously successful Carrickmines Retail Park but has been building residential and commercial developments since the 1960s.
Cotter has been through downturns before and is well positioned for any pick-up. Sales at Park Developments jumped to €86m last year.
158 The Hughes Family €70m
Work wear, new entry
Cathal, Harry and Owen Hughes own Mayo Workwear, a distributor and manufacturer of safety and protective gear under the Portwest brand.
The company had sales of €69m last year but was hugely profitable, clearing close to €9.35m. It had retained profits of €53m. They also own the Hotel Westport.
159 Hugh Mackeown €70m
Retail, down €5m
The MacKeown family is one of the biggest shareholders in SuperValu and Centra operator Musgrave.
Hugh is a scratch golfer and has homes in Cork and the Caribbean. There have been huge dividends in recent years.
160 Colm Piercy €70m
Broadband, up €25m
Limerick entrepreneur Colm Piercy is the majority owner of broadband group Digiweb, which is worth about €120m, following its merger with Viatel last year. Wall Street heavyweight Morgan Stanley also took a stake in the firm. Piercy also has investments in the fast-growing data centre business.
161 Edward Lonergan €70M
Property, down €55m
Low-profile Belfast property investor Lonergan is behind the Deramore Group, which owns stacks of prime office blocks, shopping centres and industrial parks across Northern Ireland and the UK, including assets in Glasgow and Cambridge.
Deramore Holdings was sitting on investment properties worth €134m last year, with debts of about €75m. There have been some hefty writedowns in recent years.
162 Eamonn Rothwell €70m
Ferries, up €12m
Nicknamed the "Rottweiler", the financier turned ferry boss has quite a scary bark.
He owns 16.5 per cent of listed ferry group ICG, which has seen its share price rebound strongly, valuing those shares at €70m. He also earned €18m from a tender offer in 2012, when the firm spent €110m buying back its own shares.
There are borrowings, though. ICG pays a healthy dividend and he's cleared well over €20m in pay and dividends over the last decade.
163 Stephen Grant €70m
Fuel heaters, new entry
Grant owns over 65 per cent of Birr, Co Offaly-based Grant Engineering, which makes oil and solid-fuel burners. The company had shareholders' funds of €67m.
164 Frank Dunphy €69m
Art, up €1m
Portrane accountant Frank Dunphy managed Damien Hirst – the most commercial successful living artist of the 1990s and 2000s. The Brit-Art frontman is believed to have made a fortune of somewhere close to €180m, with Dunphy likely to have taken a decent chunk. He also owns 30 per cent of Hirst's Other Criteria merchandising group, which generated an average of €8.8m per year in the boom.
Dunphy, who represented Britain's first exotic dancer Peaches Page, has also looked after hardman Ray Winstone, James Nesbitt and Tracy Emin. He is said to charge his clients a nice slice of all their income.
He has a home on London's Hyde Park as well as a sprawling estate in Mexico.
Dunphy has invested in art and is thought to own at least one Picasso.
165 Houghton Fry €69m
Glass bottles, down €7m
Fry is the Fry in William Fry, one of the country's biggest law firms, where he served as managing partner.
Now he's more focused on glass bottle giant Ardagh, where he owns a 2.38 per cent chunk. There are also valuable property assets.
166 Ken Cheevers €69m
Property, down €10m
Ken Cheevers netted €29m when selling his car company in 1996, using the windfall to fund investments in shopping centres across Northern Ireland.
He is behind the €45m McLaughlin & Harvey civil engineering business, with his son Philip at the controls. Cheevers also has a Scottish building firm, Barr Construction, and is thought to have extensive retail property assets.
167 Michael Kelly €67m
Software, up €1m
Kelly's banking software group Fineos is controlled by two Jersey-based firms. Kelly lives in a house on the exclusive mount Juliet Resort. Fineos is an unlimited company so it doesn't have to file detailed accounts. Previously, it had earnings of €4.9m.
168 David Bobbett €65m
Fast food kitchens, up €15m
Dubliner David Bobbett's H&K International makes all the bespoke kitchens for 20,000-plus McDonalds, Burger King and KFC restaurants around the world.
The former accountant led a management buyout in 2002, days before its biggest customer stopped spending money. Bobbett managed to guide the business through that and has turned it into one of the world's biggest stainless steel kitchen providers.
H&K is owned via Jersey companies and its finances are not public, although it is said to have sales above €360m.
169 John McColgan & Moya Doherty €65m
Riverdance, down €3m
John McColgan and Moya Doherty have coined it from the phenomenal success of the all-singing, all-dancing, twee-fest that is Riverdance.
Okay, we might be a bit jaded of it now but you cannot but admit that Riverdance was a jawdropper when it made its debut as the half-time act of the 1994 Eurovision Song Contest. Since then more than 100 million people have seen the show.
Doherty and McColgan own 65.6 per cent of Riverdance and are likely to have made more than €80m out of its run.
They haven't hit the magic formula again. The €12m Pirate Queen was a turkey. A new show, Heartbeat of Home, made its debut in Dublin in late 2013 and is rolling out on a US tour.
The duo are big into property and were part of the Derek Quinlan-led consortium that spent over €1.1bn to buy the Savoy Hotel group during the boom. They also invested in Jurys Inn on Parnell Street, have some flashy condos in Manhattan and dropped a packet on an estate in Martha's Vineyard.
John's plan to link the diaspora through WorldIrish.com, a "social media hub", bit the dust last year.
170 Louis Fitzgerald €65m
Renewables, down €17m
Financier Louis Fitzgerald was involved in one of the best deals ever. He was an early investor in Eddie O'Connor's Airtricity, which raised €630,000 from Fitzgerald and a small number of other backers. Ten years later, the company was sold for over €2bn, generating stupendous returns for the seed investors.
Fitzgerald has also backed O'Connor's Mainstream Renewables, which sold a 25 per cent stake to a Japanese trading house for €100m last year.
171 Michael O'Shea €65m
Private equity, up €4m
Low-profile private equity baron Michael O'Shea initially made his first fortune from the Atlantic Rimec recruitment business before moving to Geneva.
His Kerten investment group owns stakes in hotels, clothing, property and engineering businesses across Eastern Europe and Turkey. It also owns a 30 per cent stake in Elit Cicolata, one of Turkey's biggest chocolate makers.
172 Thomas Kennedy €65m
Accommodation, up €5m
Serial entrepreneur Tom Kennedy teamed up with Ray Nolan to create Hostelworld and reinvent bed booking online. They sold the business to Hellman & Friedman for over €220m in 2010.
Kennedy, a hostel owner, has stuck with the accommodation sector, setting up the Homestay.com business, which matches travellers with beds and is focusing on the language student sector. He has other assets.
173 Neville Isdell €65m
Coca Cola, new entry
Downpatrick-born Neville Isdell, 70, was a career Coca Cola executive. He became CEO and chairman of the iconic fizzy drink company in 2004, getting paid mega bucks over his four-year stint, where he turned around the business. This included a €15.8m cash, bonus and stock award in 2007. He earned around €28m at Coke and owns shares worth about €31m.
Isdell has also been scouting Ireland for plum assets at knockdown prices. He paid around €10m to buy the GHQ shopping mall in the heart of Dublin's IFSC and has ambitious plans to reinvigorate the centre, which had originally cost €45m in the boom.
174 Frank Kenny €65m
Property, new entry
Property magnate Kenny moved to the US in 1983 where he threw himself into the real estate business with gusto, making an absolute fortune.
His New York-based Willett Companies has a property portfolio worth over €750m, bringing in rents of €51m per year. It owns between 10 per cent to 100 per cent of the buildings in its portfolio.
The former Lisney executive is also helping bankroll the €430m Hibernia Real Estate Trust.
175 Michael Costello €65m
Pharmaceuticals, down €5m
Costello sold his generic drug firm Pinewood Laboratories to Indian group Wockhardt for about €119m in 2007. He is thought to have grossed €78m out of the deal. Assets include property in Spain.
176 Dan Browne €64m
Meat, down €1m
Browne and his family are believed to own around 30 per cent of Dawn Meats parent company QBD. He served as managing director of the Wexford firm, with son Niall now helming the ship.
177 Pearse Mee €64m
Software, up €1m
Mee was Ireland's very first software tycoon, floating off his Memory Computers back in the days when a hard drive took up an entire room.
He then built up a second business, AMT Sybex, which provides kit to the utility sector. He has earned over €30m in dividends and has hired the likes of Sebastian Coe and Conservative Party grandee Stephen Norris as directors. He also owns Arsenal FC debentures.
178 Wayne Acheson €64m
Meat, up €4m
Motor racing fan Acheson and his family are one of the biggest beef barons in Northern Ireland, with their rapidly expanding Foyle Group meat processor. They spent over €5m buying out Ensor's abattoir last year. Foyle is working on a €40m bio-gas project.
179 Rory McIlroy €63m
Golf, up €25m
Hollywood golfer Rory McIlroy is Ireland's biggest sports star. His on-course earnings passed €19.6m earlier this year. But the big money is endorsements and sponsorships.
After winning not one but two majors, McIlroy signed the biggest deal in history, when joining up with Nike in a €190m 10-year deal two years ago.
Then his form slumped. And he fell out with Horizon, his management team. This led to litigation. There were also rows with former sponsors, leading to a settlement with sunglasses manufacturer Oakley.
On the plus side, McIlroy is getting married to tennis star Caroline Wozniacki. He also made a few bob when luxury yacht-maker Sunseeker was sold to a Chinese group for €350m.
McIlroy is fond of tax-driven property investments in the UK, backing a hotel deal in Birmingham and a docklands development scheme in Liverpool. He also owns some pretty fine property, including a $10.9m sea-front mansion in Florida.
180 Kevin & Dermot Clancy €63m
Civil engineering, down €3m
The Clancy brothers own UK civil engineering group Clancy Group, which is involved in rail and utilities infrastructure. Sales dropped 5 per cent to €290m last year, which saw a smaller dividend paid out.
181 Paddy Campbell €63m
Food, down €3m
Aramark coughed up €64.5m to buy out Campbell Catering, which had been set up by Paddy Campbell and his wife Veronica in their own kitchen.
The 71-year-old Dubliner became an extremely accomplished sculptor, producing the official bust of President Mary McAleese as well as other high-profile commissions. Campbell divides his time between studios in Italy and Ireland.
182 Joseph Higgins €62m
Property, down €7m
Galway's Joseph Higgins sold his Turnkey computer cabinet-making firm for over €60m in the 1990s. He ploughed the proceeds into real estate.
His Coltard group has owned assets including the Dun Laoghaire shopping centre and the Radisson hotel building in Dublin's Golden Lane. There is some debt.
183 Larry Quinn €61m
Telecoms, up €1m
Venture capitalist Quinn is thought to have bagged around €13m when telecoms firms Apion and Aldiscon were sold in the late 1990s.
He also hit pay-dirt when Aepona was sold for €92m last year. Quinn is a partner in Brian Long's highly successful Atlantic Bridge, which has seen a number of its punts come good.
184 Domhnal Slattery €60m
Aviation leasing, up €15m
A real comeback kid. Slattery's goose looked cooked during the crash when his private-equity firm Claret Capital got into difficulties.
Clareman Slattery was made of sterner stuff – as you'd expect from a former PA to Tony Ryan. He started up aircraft-leasing group Avolon and raised over €4bn from some real blue-chip investors.
The company is absolutely flying and is expected to float or even be sold to a trade buyer in the next year or two.
Ailesbury Road resident Slattery also bankrolls movies and owns a chunk of a local newspaper.
185 Rosaleen Blair €60m
Recruitment, up €11m
Last November, Dubliner Rosaleen Blair sold her €315m-valued AMS recruitment firm to private-equity group New Mountain Capital.
Following the buyout, she retains a €50m stake in the business. Blair had led a €120m management buyout back in 2007. The former Businesswoman of the Year has been well paid at the helm.
186 Tom Morrisroe €60m
Big data, new entry
Roscommon man Tom Morrisroe worked on his father's farm when he was a nipper. It made him certain that he would work for himself.
In 2006, he set up the Now Factory, which helps communications service providers to turn their ever-growing volumes of data traffic into revenue.
In 2013, IBM splashed out close to €73m to buy the firm. Morrisroe was the majority shareholder.
187 Noel Noonan €60m
Facilities management, down €2m
Private-equity firm Alchemy spent about €90m to buy out the shareholders in Noonan Services, which was 87 per cent owned by Noonan and members of his family.
He's involved in other businesses including a water cooler and micro dishwasher enterprise.
188 Richard Roche €60m
Shops, down €5m
A property deal on the east coast of the US may have gone south but the Roche family still pulled off one of the best-timed exits ever when selling their €29m Roches Stores department store business to Debenhams at the top of the market.
They kept much of the ownership of the actual stores, which generate a solid €18m rent roll, but values have been hit.
189 Dermot Smurfit €60m
Paper, new entry
Smurfit netted around €30m when private-equity group Madison Dearborn took over his family business Jefferson Smurfit group 10 years ago.
He chairs paper packaging group Powerflute, in which he holds a €15m stake. There are other investments and properties.
190 Jay Murray €60m
Technology, down €9m
Jay Murray, a former Telecom Eireann engineer, was one of the first people to recognise the commercial potential of SMS text messages.
He sold software group Aldiscon in 1997, netting €30m. This money was reinvested into Apion, which was then bought by Logica for €240m.
Murray's Gibraltar-based Mayfair Ventures firm has invested in property in the West End of London as well as backing start-ups and tech firms. Not all of them have worked. He put €8m into software group Anam, which went south.
191 Ronan Lambe €60m
Pharma, down €7m
Lambe made around €85m from the sale of shares in Nasdaq-listed clinical research firm Icon, when he retired from the company.
He has invested in small bio-tech companies.
192 John & Darren Donnelly €59m
Trucks, up €1m
The Donnellys' Retlan Holdings is one of the biggest articulated truck trailer makers in Europe, through the SDC and MDF operations in Antrim.
It also has a recycling business and a joint venture in India. There was a €1.8m dividend paid as sales rose slightly to €136m.
193 John S Daly €59m
Wall Street, up €3m
Clontarf-born Goldman Sachs rainmaker John S Daly has been on the top floor of the Wall Street Bank for the last 14 years, when partners have seen average bonuses of close to €5m per year in the good times – and sometimes far, far more.
Daly heads up Goldman's Americas Equity Capital Markets Group in New York. Shares have bounced back really strongly.
194 Frank Burke €58m
Construction, up €8m
Last November, Galway man Frank Burke sold his €50m-per-year based dry lining and construction group BDL to rival Carey Group. Burke also had other property assets.
195 Finian O'Sullivan €58m
Oil, down €6m
Galway geologist Finian O'Sullivan made a fortune when his oil company Burren was taken over by Italian firm Eni for €2bn back in 2006.
He invested some of the €81m proceeds into a Caribbean-focused bird dogger, Bayfield, which was exploring for oil off tropical islands. A merger with Trinity Exploration followed after Bayfield hit production and funding speed bumps. O'Sullivan lives in Hampshire.
196 Van Morrison €58m
Music, up €1m
Van the Man has sold more than 48 million records since the Sixties, including the mega-selling Astral Weeks. He also owns some serious property, including pads in Killiney, Bath and another place outside Belfast.
197 Bill Hughes €57m
Care homes, up €4m
Profits topped €10.5m at the Bill Hughes-owned B&M Care, a chain of nursing homes spread across the UK.
198 Des Pettitt €56m
Supermarkets, up €1m
Des Pettitt and his family have been in the retailing game since 1825, when his great-grandfather first opened a shop in Wexford.
The Pettitts still own a major retail empire in the south east with six SuperValu stores as well as a number of pubs and the Talbot hotels in Wexford and Carlow and the Stillorgan Park in Dublin. The family's Torski firm had shareholders' funds of over €56m.
199 The Crampton family €56m
Construction, down €3m
Philip and David Crampton run the 135-year-old G&T Crampton building company.
During the boom it had sales of €241m. Things will have got much tighter in the downturn.
Crampton has built some of Dublin's most iconic buildings including the US embassy in Ballsbridge. Lately it has moved into fixing up distressed assets.