Revenues tumble by 52pc at Covid-hit Dublin Bus
State subsidies of €147m prevented major losses last year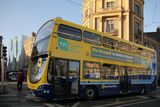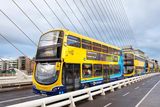 Operating revenues at Dublin Bus plunged by €138m, or more than 52pc,  last year due to the impact of the Covid-19 pandemic.
That is according to the 2020 annual report for Dublin Bus which shows that State subsidies increasing from €40m to €147m last year prevented major losses at the company.
The report shows that Dublin Bus last year recorded pre-tax losses of €9.8m compared with a pre-tax profit of €2.4m in 2019.
Operating revenues slumped from €263m to €125m after customer journeys reduced by just over half, or 51pc, from 141.8 million in 2019 to 69.4 million  last year.
After the ramping up of State funding, the transport company's total revenues declined by 10pc  from €303m to €272.5m.
In his review of the year, Dublin Bus CEO Ray Coyne stated that "although customer demand has fallen substantially and will take time to recover, we are now looking forward to where Bus Átha Cliath, and other public transport operators, will enable and support economic renewal".
The impact of the pandemic is starkly illustrated with Dublin Bus's commercial revenues declining by 87pc from €22.6m to €2.9m.
The company suspended its commercial business in April 2020 and the directors state that the commercial business incurred a loss of €11m for 2020 compared with a surplus of €5.6m in 2019 and is projected to incur a loss in 2021.
The directors state they are satisfied that the quantum of losses over the next 12 months are sustainable, and the company has sufficient resources to fund these losses.
The company's grant income from the State was made up of Public Service Obligation (PSO) payments of €125.1m, compared with €39.9m in 2019, and Covid-19 wage subsidy scheme payments of €22.3m. The transport company's total direct costs reduced by 1.5pc from €289.7m to €274.6m last year.
Numbers employed by Dublin Bus last year increased from 3,475 to 3,573 as staff costs reduced from €201.42m to €195.13m.
The pay to Mr Coyne totalled €257,000, made up of a basic salary of €200,000, €52,000 in pension payments and €5,000 in social insurance costs.