Green is not just for March 17!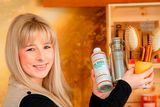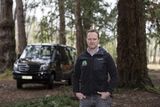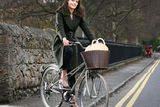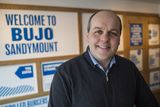 Going green for businesses can no longer be considered a trend or a passing fad. Adopting ethical and sustainable practices benefits not just the environment, but can help improve the bottom line, too. As consumer demand for green products and eco-friendly services is high, we meet the people of five Irish companies who are wearing their green credentials on their sleeves
Caitríona Lynch
Sustain Sister
Caitríona Lynch, who studied fashion buying and retail management in DIT and went on to work in fashion buying for several years, found the fast-fashion predilection disturbing. She was also bothered by various unethical aspects of the fashion industry such as low wages and health and safety risks at some factories. Lynch was concerned, too, with the environmental impact fashion can have - a T-shirt can take over 2,700 litres of water to produce, which is enough water for one person to drink for two-and-a-half years. In response, she launched Sustain Sister last year, a website where you can buy from a selection of environmentally friendly, sustainable brands, or choose to borrow a vintage garment, with prices from €20, including high-end labels such as Lanvin, Nina Ricci and Alexander Wang.
"I was always buying second-hand, vintage clothes and I could see so many friends buying an outfit and wearing it once, and it was completely discarded after that. I saw things kicking off abroad like Rent the Runway in the US, but I didn't see anything like that in Ireland, so this was a good opportunity. I wanted to lead and inspire in a sustainable way and to show that you don't have to compromise style for ethics."
The rental price of a garment includes dry cleaning from environmentally friendly GreenEarth in Dublin's Rathmines, and delivery is available all over the country, with bike delivery used in Dublin city centre to reduce the carbon footprint.
Lynch finds the vintage garments for the site from various places including consignment stores and auction houses, with new pieces added every month. In terms of the brands available to purchase on the site, she heavily researched and sourced labels from all over Europe, none of which are on sale elsewhere in Ireland. "I vetted all of those companies and found out about their ethos and culture and where they sourced their products and fabrics," she says. "At least you know that the product isn't harmful to the environment or the people who make it."
sustainsister.com
Michael Sheary
BuJo
When businessman Michael Sheary and his best friend celebrated the night that their daughters were born - in the same hospital within minutes of each other - they made a commitment. When the girls grew up, they wanted to have done something that would make them and their generation proud. That has now taken form with BuJo in Dublin's Sandymount (it stands for Burger Joint), which embraces sustainability on all levels.
Grainne O'Keefe, the head chef at Clanbrassil House, developed the menu to create a sustainability framework for the food. BuJo's ingredients include grass-fed Irish beef, bacon from Cavan rare-breed pigs, Irish potatoes as long as the season lasts, buns baked by artisan baker David Coughlan in Kildare, and ice-cream from Wexford's Coolhull Farm. The kids' package, meanwhile, is unseasoned, with preservative- and additive-free cordials available. Sheary maintains that BuJo - the only burger restaurant in Ireland and the UK to get a three-star rating for sustainability from the not-for-profit Sustainable Restaurant Association - is rooted in integrity.
"We only ever use compostable packaging - it's better than recycling and it's biodegradable and it's not something we have to debate about. We know that using compostable packaging costs a fortune and even though we could save a lot by going the cheaper way, it's not something we're going to do and that goes across every aspect of the business. We can buy cheaper beef, we can buy cheaper frozen potatoes from abroad - we're just not going to."
BuJo, which employs 26 people, has no chefs and uses a counter service model. When staff were recruited, no paper was used, with 700 CVs coming in via Jobbio instead; and with many local people employed, few buses or cars are required to get to work.
The burger market is a competitive one but Sheary says that BuJo has some very real defendable differences. "Our defining thing is that we know we make a magnificent burger and also what defines us is our hospitality, which is how you make people feel and is different to 'service'."
bujo.ie
Ronan Farrell
WineLab
Consumers have begun to reconsider many aspects of beverage packaging, as evidenced by the rise of keep-cups and refillable water bottles, so it's a logical progression that wine should come under scrutiny. Ronan Farrell set up WineLab, Ireland's first wine-on-tap specialist, in 2013, with his partner Richie Byrne. The company supplies more than 400 outlets around the country, including restaurants and bars Luna, Featherblade and Roberta's, with approximately 1,500 taps pouring wine. Wine on tap is big business in London and the US and the benefits for the end user is that the wine tastes exactly as it did on the day that it left the winery, with the shelf life of a keg 60 days. It also cuts down on shipping costs, meaning high-quality wine for cheaper, and the environmental benefits are significant, too.
"The Key Keg system is a lightweight single 1.1kg high-quality plastic keg and a 30-litre keg replaces 40 glass bottles," Farrell explains. "Plastics and glass are both recyclable materials and the beauty of using a lightweight plastic is that we reduce the amount of material that we recycle by about 94pc. If you start to extrapolate that out, we fit at least twice as much wine on a pallet, we use half as many trucks, so we use half as much shipping emissions. It cuts down on storage space and there's labour savings and electricity savings, too. We have a customer in Dublin city centre, Nolita, who took about 7.5 tonnes of glass out of their property. "
This year, by supplying around 25,000 kegs of wine, he estimates this will take about 375 tonnes of glass out of the recycling chain in Ireland, replacing that with 25 tonnes of plastics. Later this year, WineLab are starting a pilot scheme replacing open-loop recycling (where the recycled goods are used to make a lower-grade product) with one where the kegs will be collected, crushed in Dublin and sent back to the manufacturer in the Netherlands, where they will be made into brand-new Key Kegs, a process called closed-loop recycling.
The company has also launched a new concept in Dublin's Dollard & Co Food Hall called En Brac, where customers can take home wine on tap in half-litre and 1-litre reusable bottles, which they can then bring back.
For wine drinkers who may be hesitant about moving away from traditional wine bottles, Farrell says: "When you detach the emotive picture of a bottle of wine and just look at it as a vessel for storage, that for me makes wine on tap make sense, where we can ship it more efficiently in a container that can preserve the wine better and make it taste fresher for longer. We have 45 wine kegs from 16 different producers and they love it - they taste the wine in kegs and they can't believe how fresh and vibrant and bright the wine is."
winelab.ie
Rob Rankin
Vagabond and Driftwood Tours
That you can't really travel without some sort of environmental impact is Rob Rankin's belief. He founded Vagabond Tours in 2002, after travelling in Africa with his wife, Amy. Having seen safari and the more adventurous tours there, he wanted to develop a similar visitor experience in Ireland. Both Vagabond and Driftwood (which caters more towards those who prefer scenery and culture as opposed to Vagabond's emphasis on outdoor pursuits) specialise in small group tours and the company's commitment to sustainability and environmentally friendly measures is strong.
They operate 19 vehicles, which have the same-sized engines as normal cars but carry up to 17 people, so emissions per person are less. "We arrive in small numbers compared to larger group tours, so our impact is less on local communities," says Rankin. "We estimate that each of our passengers contributes about €2,000 to local Irish communities in terms of spending on accommodation, food, drink, entertainment, shopping and entrance fees."
Last year, Vagabond partnered with The Woodland Trust and 'One Million Trees in One' to begin offsetting their CO2 emissions for 2016 and for previous years. It has also changed all purchasing and practices within the company buying eco-friendly and local (where possible) products, cleaning vehicles by hand with an ecological hand wash instead of using jet washes, and reducing electricity consumption by two thirds. Vehicles are tracked to ensure everyone is driving safely and ecologically friendly and, this year, all passengers are being given aluminium bottles. "We reckon that when our passengers are in Ireland, this will save potentially 30,000 plastic bottles alone," Rankin explains. "We also have compostable cups, which we give out to our passengers so that they can go into coffee shops and get their coffee and then it can be repurposed. All our guides carry litter rubbish bags with them on walks and pick up rubbish as we go and we've done beach cleans as well, and all our guides are trained in Leave No Trace (the set of outdoor ethics) and the simple principles of it, which is internationally recognised."
The company won the Green Tourism and Entertainment Award at this year's Green Awards and it is the first and only tour operator in Ireland to achieve the EcoTourism Ireland Gold Level.
Vagabond is potentially creating a training programme to help other companies increase their eco-awareness and go for some kind of certification. "I think a lot of people are wary: they think it's going to cost them a fortune to be environmentally friendly and actually it doesn't - in many ways it can save you money," Rankin says.
vagabondtoursofireland.com