Government weighs stamp duty hike on apartment block buyers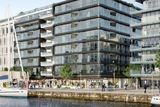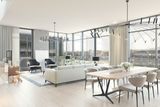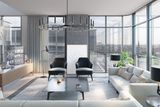 Rumours that the Government is considering increasing stamp duty on purchases of apartment blocks in next month's Budget come at a time when as much as €5bn of international investment funding is targeting the Irish Private Rented Sector (PRS).
If the Government were to increase the stamp duty from 2pc to the 6pc commercial property rate, and even if only half of the investment funding was to materialise, then the Exchequer could stand to generate €100m from those deals.
The tax take could increase further if the 6pc rate were to include student accommodation investments, deals for which totalled €323m in the last 20 months.
However, on the negative side, there is also concern that an increase in stamp duty would deter investment funds which are playing an increasing role in accelerating supply of rental accommodation, especially in urban areas, during this current housing shortage.
Furthermore, any dampener on Build-to-Rent (BTR) apartment supply could deter foreign employers, some of whom are already expressing concern about the effects of the housing shortage on their efforts to recruit international staff for their Irish operations.
On the other hand, the stamp duty increase would also help to address concerns that PRS investors contribute much less tax than individual landlords as a portion of their rental income.
It might also be argued that a stamp duty increase on PRS may have little effect on investor demand for PRS as was shown with the increase to 6pc for commercial property. That increase failed to deter investors as has been reflected in latest forecasts that all investment property sales including commercial this year could exceed €3bn which would make 2018 the fourth strongest year for property investment.
On the other hand, estate agent Marie Hunt of CBRE points out that one of the reasons this year's market is so strong is because residential investment accounted for more than €500m worth of deals during the first half of 2018 alone - almost twice the annual average volume of residential investments traded since 2012.
There has also been some concern that large-scale PRS projects are absorbing labour resources to an extent that is curtailing new developments which would serve the owner-occupier market.
In a submission by the UCD School of Architecture, Planning and Environmental Policy to the Department of Housing about the recent changes to apartment design guidelines, it was argued that planning policy which promotes high-yield buildings with small apartments can increase land values, incentivise land speculation and add to costs.
"This will further squeeze out traditional apartment development as less 'viable' than the more profitable alternatives (BTR, co-living and student accommodation). These competing alternatives are considerably more profitable for investors and as a result higher prices can be paid for land. The consequence is that traditional apartment development is less 'viable'.
"The introduction of competing alternatives is exacerbated further by the competing uses having fewer planning requirements for Part V (social housing), crèche provision, parking, amenity etc. than traditional apartments. Over-provision and over-concentration of small high-yield units is not conducive to proper planning and development, sustainable mixed communities and the long-term housing need," the submission says.
Last week the author, assistant professor Orla Hegarty, explained how this demand has boosted development land prices. "Sales last year to Hines suggest residual site values of €45,000 per bedroom for student accommodation. Currently a residential site in Cabra is for sale for €75,000 per site and Stillorgan sites sold for €120,000 per unit per site."
She asserts that more profitable student development makes it less attractive to develop apartments for individual sale.
For instance an eight-bedroom student unit with shared kitchen could generate about €84,800 for the nine months of the academic year and a further €60,000 from holiday lettings during the summer. But its floor area would equate to only two two-bedroom apartments which could generate only a combined €60,000 a year.
"Looking at this the other way, two-bed apartments would have to sell for €600,000 - €700,000 based on the residual site value generated by a student housing use in Dublin city," she adds.
Research by Knight Frank shows that Cairn Homes achieved an average of €841,667 from the sale of 6 Hanover Quay, the 120-apartment complex with some retail units, which it sold to a company managed by Carysfort Capital for €101m during the summer.
Cairn's interim results shows that it sells student complex units at an average of €620,000 each, 16pc greater than the €533,000 average price for its apartments.
The price gap is even greater for houses. Cairn's site costs averaged €32,000 per house site which is less than one third the €99,000 per student unit site. However, it has sold houses for an average of only €302,000 per unit.
Another reflection of the attractions of Build-to-Rent for developers was when Irish Life enticed Park Developments to switch its Fernbank apartment complex block in Dundrum, Dublin 14, from owner-occupier to Build-to-Rent. Those units averaged €491,379 each. Glenveagh is expected to make a similar switch for an apartment block it's building in Dundrum.
A further indication of the lucrative nature of PRS is seen in the latest half-year results from Ireland's largest landlord, Ires Reit. During the six months to June this year, the CSO showed that average Dublin apartment prices increased by less than 2.3pc. But with Ires Reit's management expertise it boosted the value of the 2,451 apartments it owned at the start of the year by 7.8pc over the six months to €796.8m. That was before it added a further 157 units in Finglas and Ongar.
However, Central Bank limits on mortgage supply and Brexit economic uncertainty are among the factors which focus small and medium developers on house building as they gauge the pace of supply more closely with sales rather than undertake speculative apartment projects with longer lead times. Consequently the individual house purchases take longer.
Hence the Government will need to tread carefully and ensure any Budget measures do not turn off international investors who can help deliver large-scale supply more quickly to the rental market.