Ergo: Donegal's Ruth Nic Aoidh to help Jaguar Land Rover go electric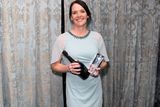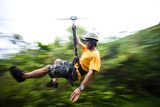 As Jaguar Land Rover transitions to becoming a maker of all electric vehicles,Ergo noticed that Donegal native Ruth Nic Aoidh has joined the car and SUV maker as its director of vehicle programmes.
The qualified lawyer – and former executive director for commercial, procurement, legal and government affairs at supercar maker and Formula 1 team McLaren – had been interim CEO at Paralympics Ireland, and still advises the organisation.
Originally from Gweedore, she joins JLR at a critical juncture, with a next phase of its strategy set to see £15bn (€17bn) invested over the next five years.
In 2020, Nic Aoidh headed McLaren's 'Ventilator Challenge', collaborating with rival F1 teams and others.
Manufacturing and sourcing components for ventilators, then testing them in the midst of the pandemic was something of a different race to those on the track that the teams were used to.
UCD graduate Nic Aoidh will also be in good company. Chief designer Gerry McGovern's parents were both from Leitrim.
Meanwhile, Glencar, Co Kerry, native Patrick McGillycuddy, of the Glencar Construction family, recently became interim MD of the vehicle maker's UK operation after heading up its sales.
A new adventure park could be about to zipline its way into Roundwood, Co Wicklow
A new adventure park could be about to zipline its way into Roundwood, Co Wicklow.
According to a planning application made to Wicklow County Council, Djouce Outdoors has plans to turn the site of the former Djouce golf club into an adventure park.
The park is set to consist of a new zip line, adventure course facility and a watersport pond. It also plans to turn the former golf clubhouse into a reception area.
Djouce Outdoors has its registered address at the Turquoise Cafe, based on the grounds of the proposed adventure park.
New greenwashing rules catch Irish firms cold
One in two firms have not had enough time to meet new EU anti-greenwashing rules, a survey of 125 Irish financial service firms by the Compliance Institute found.
The EU's new Corporate Sustainability Reporting Directive demands more transparency on the environment, human rights and social standards.
Firms run the risk of penalties if they don't get up to speed.
Just over half (51pc) of those surveyed claimed not to have had enough time to fully comply which Michael Kavanagh, CEO of the Compliance Institute, described as "concerning".