Digital battle: Retailers competing against online shopping events Black Friday and Cyber Monday
The big picture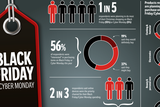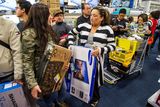 Irish shoppers have embraced 'Black Friday' and 'Cyber Monday', eagerly participating in the traditional American shopping bonanza, according to research from global consulting group PwC.
Black Friday is the informal name given for the day following Thanksgiving in the United States, which this year falls on November 22.
The survey of 1,000 adults found that one in five Irish people will do the majority of their Christmas shopping on the Black Friday/Cyber Monday weekend, while a further 37pc are considering it.
Unlike most shopping, the majority of retail activity over the two days will be done online, with one in three consumers using a desktop computer as their main shopping channel, and a similar number using a smartphone to purchase goods.
"With retailers and brands going through so much transformation, the survey highlights that Black Friday/Cyber Monday and run-up to Christmas offers great shopping and business opportunities," said PwC retail & consumer practice director Owen McFeely. "Retailers need to ensure they get their fair share of the action," he added.
While increasing numbers of people are shopping online it is not all bad news for shop owners. It appears that Christmas shopping at least, is still mainly done in-store, with 58pc of consumers doing the bulk of their Christmas shopping on the main street.
In contrast, the UK in particular is facing very difficult trading conditions on its main streets, with a report last week confirming that approximately 14 shops a day are closing.
Speaking about the number of store closures in the UK Graeme McQueen, head of public affairs at the Dublin Chamber, said that it was "definitely" of concern, however he stressed that it was important to differentiate between Ireland and the UK.
"There is still a big role to play for the bricks and mortar stores in Ireland," Mr McQueen said.
He added that shop owners are having to rethink how they do things.
"Better customer care, creating a better customer experience, making sure that everything is top notch, to get customers to spend and come back is key," he said.
Promoted: See the latest offers and deals on Independent Discounts
In terms of what could be done to assist shop owners, Mr McQueen said that rates were one of the biggest costs for businesses, adding that local authorities have to make sure that rates and other utility costs were not rising too fast.
Overall, he said that there were a lot of positives in the sector, with businesses putting a lot of money into their shops.
In general, the report found that Irish consumers are also broadly positive about the economy with a quarter of respondents believing that Ireland's economy will perform better in the year ahead and a further 50pc believe it will perform the same as this year.
Additional reporting PA