Desmond-backed bank to cull 'prohibited risk' clients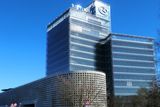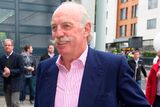 Latvia's Rietumu Banka, in which Irish billionaire financier Dermot Desmond owns a one-third stake, has said it is terminating its relationships with more than 4,000 corporate customers it has classified as being in a 'prohibited risk' category.
The move comes after the United States accused the Baltic country's third-largest bank, ABLV, of "institutionalised money laundering" earlier this year.
Rietumu Banka said that its affected clients were previously classified by it as 'high-risk'. Labelling them prohibited risk means the bank will terminate its relationship with the customers within two months.
It reclassified the customers last month, according to Rietumu's newly-published annual report.
In February, the US Treasury Department's Crimes Enforcement Network claimed that ABLV had links to North Korea's ballistic missile programme, an allegation the bank had strenuously denied.
But the US moved to freeze ABLV out of the US banking system. The US probe prompted investors to start pulling funds from ABLV and caused significant turmoil in the Latvia's financial sector. The European Central Bank instructed the Latvian banking regulator to impose a moratorium on outgoing payments from ABLV, and the bank is now being liquidated.
The United States called for changes to Latvian banks' business models, and for improvements to anti-money laundering mechanisms.
"These changes affect not only services to the existing customers of the bank [Rietumu Banka] but also require review of potential target markets and customers of the bank," Rietumu's annual report noted.
It said that its corporate customers who are now classified by Rietumu as 'prohibited risk', represent about two-thirds of all the bank's non-Latvian corporate customers. It added that the majority of the prohibited risk customers are domiciled outside the EU and OECD countries, in off-shore jurisdictions.
Rietumu said it will no longer accept any customers from outside the EU or OECD countries.
Rietumu's board members include Mr Desmond, as well as Brendan Murphy, who is deputy chairman. Mr Desmond first acquired a stake in the Latvian bank in 2005. Rietumu said in its annual report that, following the US intervention, it started last month to translate all customer balances previously denominated in dollars, to euro.
"Management is confident that the measures in place at the bank at this moment, planned future changes to the business model and implemented strategy, are sufficient and appropriate to ensure further successful operations of the bank and the group," its annual report noted.
It said details of its new strategy won't be available until Latvian authorities publish and adopt into law new legislation designed to tackle US concerns. However, Rietumu expects to have completed preparation of its new strategy by June.
Rietumu Banka has also performed stress tests to assess the potential impact of different, severe adverse scenarios on its financial position. "None of the stress-testing scenarios resulted into the bank's or group's liquidity or capital adequacy levels falling below required thresholds," it said.
Rietumu Banka had just over €3bn in assets at the end of December, a 13.4pc fall compared to a year earlier. Its net profit after tax last year tumbled to €33.5m from €82.3m in 2016.