Delays over work from home rights means the law may not come into force until summer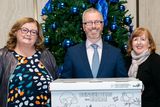 Anne-Marie Walsh, Industry Correspondent
Employees will get new work from home rights this year – but they may not be rolled out until the summer.
The Department of Enterprise said in November a new law to strengthen workers' entitlement to request remote working would be delivered by the end of 2022.
But government sources revealed the legislation is unlikely to come into force now until this summer.
The potential delay comes to light as a growing number of high-profile employers, including Elon Musk and Sir James Dyson, are opposing home working and ordering staff back to the office.
A government source said the legislation will come into force in the summer. It said the Workplace Relations Commission must compile a statutory code of practice following its enactment.
Taoiseach Leo Varadkar previously said he expected to see the legislation enacted, if not by the Christmas recess, certainly by the Easter recess.
It will be slotting into a bill from Children and Equality Minister Roderic O'Gorman's department, after an original draft bill was scrapped.
The initial proposal has been drastically revamped.
Employers had 13 grounds to refuse a request in the original bill.
In the new integrated Work Life Balance bill, these are replaced with an obligation on employers to consider their needs and the needs of employees when considering requests.
Workers will also have an enhanced right of complaint compared with the original bill.
They can make a complaint to the Workplace Relations Commission where the employer has not complied with the new code of practice or other requirements.
If their appeal is successful, they will receive up to four weeks' pay as compensation.
The changes mean staff will need a lower amount of service to qualify to request remote work.
They needed six months before they could request it in the original bill.
It will now be six months before they can start remote working, meaning they can request it earlier.
The government source said this means employees can begin remote working up to 12 weeks earlier than they could in the original bill.
Mr O'Gorman's bill means parents of young children and carers will have the right to request other types of flexible work. This includes reduced working hours.
A review of flexible working is set to take place after two years to consider whether the right to request all types of flexible work should be extended to all workers.
In his former role as Minister for Enterprise, Mr Varadkar said the benefits of remote working were obvious.
They included less commuting, fewer transport emissions, a better quality of life and new job opportunities for those who wanted to live in rural areas, and those with disabilities and caring responsibilities.