Industrial units in Dublin 'City Edge' area offer 6.43pc net initial yield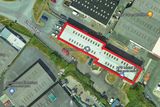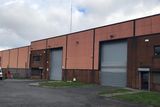 An industrial and logistics investment property in Western Industrial Estate, Dublin 12, is being offered for sale with a guide price of €990,000. Brian Shields of JLL, who is handling the sale, said that the property comprises Units 1, 2a and 2b Chestnut Road and is generating annual rents of €70,000 which would equate to a net initial yield of 6.43pc.
All three units are let to Drain Doctor, one of Dublin's leading plumbing service providers.
The combined two-storey units have a total floor area of 12,400 sqft of which 7,642 sqft are offices, a 3,210sqft warehouse and a first-floor mezzanine extends to 1,636 sqft. Parking spaces for seven cars are located to the front with provision for further spaces to the rear office area.
Due to the close location to the Naas Road, the property benefits from strong connectivity and is situated close to the M50 and M7 interchange providing fast access to the broader road network. The asset is also close to the Luas red line and numerous Dublin Bus routes.
Mr Shields says it will appeal to investors because it has a secure tenant and offers potential for future rental growth. Under the FRI lease, the investment offers a term certain of 6.5 years.
The tenant has also signed a Deed of Renunciation which could benefit a purchaser who has an eye to its development. The detached property is located in the City Edge area which the city council has earmarked for long-term development and the site is zoned REGEN.