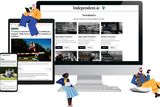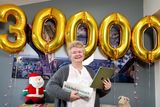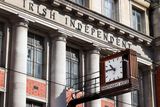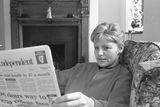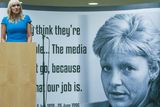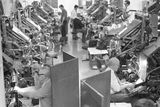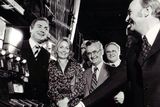 The Irish Independent and Sunday Independent are synonymous with Ireland's story. We have been at the heart of the country's history for more than 110 years.
Independent.ie is Ireland's most popular news website. We launched our subscription model for premium articles in February 2020.
The Irish Independent and Sunday Independent are the best-selling newspapers in Ireland in the daily and Sunday markets respectively.
Quality journalism is our core mission – and we are renowned for our analysis, perspective and opinion. Every day the journalism that we create sets the news agenda, sparks debate and provokes comment.
Established 2014, Mediahuis is one of the biggest publishers in the Benelux countries and is behind a wide range of cross-media brands. It is a dynamic and forward-looking media company which has expanded rapidly in recent years. Famous news brands owned by Mediahuis include NRC and De Telegraaf in The Netherlands; De Standaard and Het Nieuwsblad in Belgium; Luxemburger Wort and Télécran in Luxembourg. Mediahuis brands publish and broadcast in multiple European languages, including English, Dutch, French, Luxembourgish, Portuguese, German, Frisian and Irish (Seachtain is published weekly in the Irish Independent).
Our mission
"The Irish Independent exists to inform and explain. It is therefore not just a question of reporting what has happened, but also what does it really mean - and how does it impact on all our lives. It is our duty to be thought provoking, to challenge and to hold power to account. It is also our job to entertain and inspire – and, where possible, bring a smile to Ireland's face as well as a tear to her eye. As a trusted source of news, for well over 100 years, we have been an integral part of Irish DNA, both reflecting and reflecting on our nation's hope and fears. In good times and in bad, for better or for worse, we tell Ireland's story."
Cormac Bourke, Editor-in-Chief, Mediahuis Ireland
"Since 1905 the Sunday Independent's approach has been characterised by its fascination with people and their stories, compellingly told. As a lifelong reader of the country's most widely read newspaper I was extremely proud to become its editor in March 2020. Newspapers, like everything else, must keep reinventing themselves if they are to stay relevant and part of local and national conversations. The design of the paper has been fully refreshed and we have been very gratified by the response of readers, both long-standing and new. Across our various sections we have some of the most thought-provoking columnists in the country and the Sunday Independent editorial team tries hard every week to provide high-quality journalism that matters and – sometimes – makes a difference."
Alan English, Editor, Sunday Independent
"At Mediahuis, we realise more and more that it would be very presumptuous for us to take the trust of our readers for granted. It's not because we are part of a large European media company with renowned legacy brands that we can automatically rely on the trust of our readers. Sometimes the contrary can be true. We have to deserve that trust, with everything that we do, every day. Above all, we are very well aware that trust comes on foot but leaves on horseback."
Peter Vandermeersch, Chief Executive Officer
Peter Vandermeersch: Good journalism is increasingly important - but who do you trust? - Sunday Independent, 7 February 2021
Our people
Cormac Bourke, Editor-in-Chief, Mediahuis Ireland
Cormac is incoming Editor-in-Chief at Mediahuis Ireland. Previously he was Editor of the Irish Independent and Independent.ie and from 2015 to 2019 served as Editor of the Sunday Independent. Cormac joined INM, now Mediahuis, in 2007 as an Assistant Editor (News) for the Irish Independent and later became News Editor and Executive Editor. Cormac, a native of Co Kildare, lives in Dublin.
E: cbourke@independent.ie (For press releases and PR queries please contact inews@independent.ie)
T: @cormacbourke
Edward McCann, Director of Publishing Operations
Edward has worked at INM, now Mediahuis, since 2003 when he joined the Irish Independent as Associate Editor (Features). He was appointed Deputy Publisher in 2020 after having worked as Group Managing Editor in Dublin for five years. He took up the role of Director of Publishing Operations in 2022 and is part of the Executive Leadership Team at Mediahuis Ireland. Edward lives in Belfast.
E: emccann@mediahuis.ie
T: @edwardlmccann
Alan English, Editor, Sunday Independent
Alan has been Editor of the Sunday Independent since March 2020. Previous to that he was Editorial Director of Iconic Newspapers, editor of the Limerick Leader and a senior journalist with The Sunday Times in London. Alan, originally from Limerick, is also the author of five bestselling books on rugby. He now lives in Co Dublin.
E: aenglish@independent.ie
T: @AlanEnglish9
Kevin Doyle, Head of News
Kevin is Group Head of News at the Irish Independent and Independent.ie. He was previously Group Political Editor at INM, now Mediahuis, and before that was News Editor at the Irish Independent and The Herald. Kevin has won multiple awards for his journalism and co-presents our Floating Voter podcast. A native of Co Offaly, Kevin now lives in Dublin.
E: kdoyle@independent.ie
T: KevDoyle_Indo
Aoife Kelly, Chief Audience Editor
Aoife is Chief Audience Editor at Independent.ie. Aoife has worked at Independent.ie since 2013 and previously held the roles of Entertainment Channel Editor and Audience Editor. She was promoted to the new position of Chief Audience Editor in 2020. Previous to working for Independent.ie, she worked for evoke.ie and the Irish Daily Star. Aoife lives in Co Meath.
Jim Hayes, Regionals Group Editor
Jim has been INM, now Mediahuis, Regionals Group Editor since 2019, overseeing the newsrooms at 12 local newspaper titles, plus Ireland's Own magazine. Before that he was a writer, sub-editor and later Group Editor at People Newspapers in Wexford. He lives in Wexford town.
E: j.hayes@peoplenews.ie
David Courtney, Head of Sport, Mediahuis Ireland
Margaret Donnelly, Farming Editor, Irish Independent
Margaret joined INM, now Mediahuis, in 2000 as a journalist on the Farming Independent. She moved in 2004 to become Editorial Manager at a publishing company, later working as Editor of an agri media digital start-up. She returned in 2016 as the Agri Digital Editor, set-ting up its online farming portal, and took over as Farming Editor in 2019. Originally from Co Offaly, she now lives in Dublin.
E: madonnelly@independent.ie
Rachel Dugan Editor, Weekend Magazine, Irish Independent
Rachel joined INM, now Mediahuis, in 2014. Before being appointed editor of Weekend, she held the positions of Culture Editor and Deputy Editor of Review. Prior to joining Mediahuis, Rachel, a graduate of Trinity College Dublin, worked at a number of national newspapers. She lives in Dublin.
E: rdugan@independent.ie
Liz Kearney, Features Editor, Irish Independent/Herald
Liz has been Features Editor of the Irish Independent and The Herald since 2015. She joined INM, now Mediahuis, in 2002 and has previously worked as a reporter, sub-editor, and senior production executive. She lives in Co Wicklow.
E: lkearney@independent.ie
Jon Smith, Review Editor, Irish Independent
Jon has been Review Editor at the Irish Independent since April 2020. He was previously Opinion Editor at The Times, Ireland edition, and Digital Editor at the Business Post. He has worked at national publications including The Irish Times, The Sunday Times and the Daily Mirror. Originally from Leeds, he now lives in Dublin.
E: jsmith@independent.ie
T: @thejrsmith
Fionnán Sheahan, Ireland Editor
Fionnán joined INM, now Mediahuis, in 2005 and has worked in a series of roles, including Political Editor and Editor of the Irish Independent. Fionnán has won several awards for his print and digital journalism, is a presenter of the The Indo Daily podcast on Independent.ie and is also a regular contributor on TV and radio. A native of Co Tipperary, Fionnán now lives in Dublin.
E: fsheahan@independent.ie
T: fionnansheahan
Donal O'Donovan, Business Editor, Irish Independent
Donal joined the Irish Independent in 2010 and has been Business Editor since 2016. Before joining INM, now Mediahuis, he was a journalist with Thomson Reuters in London and is a former presenter of Newstalk's Business Breakfast. Donal has a BA and MA from University College Cork and advanced diploma from Kings Inns. He grew up in Limerick and now lives in Dublin.
E: dodonovan@independent.ie
Mark Keenan, Property Editor, Irish Independent
Mark has been residential property editor and a housing analyst for the Irish Indpendent and Independent.ie since 2013. He previously launched and edited property magazines for both the Sunday Times (where he was also Irish editor of News Review for a year) and the Sunday Tribune, where he was also editor over motoring, education and technology.
E: mkeenan@independent.ie
Fran Power, People & Culture Editor, Sunday Independent
Fran has been editor of the People & Culture magazine at the Sunday Independent since it was relaunched in November 2020. She joined INM, now Mediahuis, in 2015 and was previously editor of Cara magazine and other titles at IMAGE publications. She now lives in Dublin.
E: fpower@independent.ie
Leslie Ann Horgan, Life magazine Editor, Sunday Independent
Leslie Ann joined the Sunday Independent as Editor of Life magazine in June 2020. She previously worked as Head of Content at Her.ie, and as editor of Weekend at the Irish Independent. She was also Assistant Editor at the Irish Daily Mail. She lives in Dublin.
E: lahorgan@independent.ie
Samantha McCaughren, Business Editor, Sunday Independent
Samantha has been Business Editor of the Sunday Independent since September 2016. Prior to this she worked as Business Correspondent with the Sunday Times (Ireland) and held a number of roles at the Sunday Business Post, including Chief Business Correspondent. An award-winning journalist, she is a member of the Press Council of Ireland. She holds an honours degree in English and Sociology from Trinity College, Dublin and a Masters in Journalism from DCU.
E: SMcCaughren@independent.ie
Philip Ryan, Political Editor
Philip is Political Editor with Mediahuis. He oversees political coverage across the Irish Independent, Sunday Independent, Herald and Independent.ie. He has worked for the group since 2012 and held a number of titles including Political Correspondent and Deputy Political Editor. He also co-presented the award-winning Floating Voter podcast and is the author of a biography on Tánaiste Leo Varadkar. He previously worked for the Irish Mail on Sunday and the Irish Daily Mail. Philip was born in Dublin, raised in Wexford and currently lives in Dublin. He attended Ballyfermot College of Further Education.
To view a full list of our journalists and contributors please click here (Link:https://www.independent.ie/opinion/independent-journalists/)
More about Mediahuis
Corporate & Social Responsibility